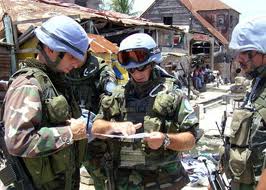 UN engages in talks with parents of Haitian boy shot by troops
The United Nations peacekeeping mission in Haiti has finally decided to engage in talks with the parents of a 16-year-old Haitian boy who had been shot five times by Argentine UN troops, over two years ago, in the Caribbean country's northern town of Verrettes, the family says.
Officials of the UN stabilization mission in Haiti, known as MINUSTAH, on Tuesday contacted Rémy Gena, the father of Widerson Gena who was shot on May 12, 2011, for discussions about steps to be taken to solve the thorny issue that has outraged many who have just learned about the tragedy the boy has been through.
"The UN called me and told me they wanted to talk to me about Widerson's case," Gena told HCNN on Tuesday. "We have been waiting for this day for a long, long time," said Gena, hoping the UN will finally assume its responsibilities and provide the compensation Widerson greatly deserves.
The schoolboy, who was only 14 when shot, has been paralyzed for life and has been hospitalized with still one bullet in his spinal cord, while two were extracted and the other two went through him.
Gena was shot when Argentine UN soldiers allegedly opened fire during a students' protest in Verrettes, in the northern Artibonite region, according to the victim and several other eyewitnesses.
The UN has failed so far to provide any support for Gena who is suffering and who had to abandon school because of his injuries and paralysis.
Gena has been complaining that he will no longer be able to fulfill his dream to become an agronomist as a result of the bullets fired by UN soldiers from Argentina.
Officials of the United Nations finally reacted by calling the parents for discussions, only 24 hours after HCNN has published a story on the boy's continued calamity.
"This is a good sign that they finally contacted us, but I hope something concrete could come out of this move," said Gena, the victim's father who said he has already spent all the meager means he had to support his son.
http://www.caribbeannewsnow.com/topstory-UN-engages-in-talks-with-parents-of-Haitian-boy-shot-by-troops-18941.html