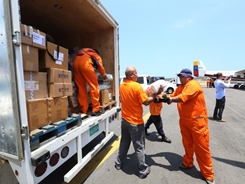 CARICOM Chairman arrives in storm-hit Dominica
CARICOM Chairman, Prime Minister of Barbados Rt. Hon. Freundel Stuart arrived in Dominica this morning for a first hand assessment of the areas affected by Tropical Storm Erika.
Prime Minister Stuart was met on arrival by Dominica's Prime Minister Hon. Roosevelt Skerrit; CARICOM Secretary-General Ambassador Irwin LaRocque who is in Dominica for his own personal assessment of Erika's damage and to assist with the recovery effort; and the Foreign Minister of the Bahamas, Hon. Fred Mitchell who is in Dominica on behalf of the Bahamian Prime Minister to assess the damage and present a cash grant to the government and people.
Tropical Storm Erika hit Dominica with torrential rains on Thursday 27 August, leaving more than 30 persons dead and causing widespread damage across the country. The Government has declared nine special disaster areas.
Fuerza Aérea envía ayuda humanitaria a Dominica, afectada por tormenta Érika
Tras los estragos causados por el paso de la tormenta tropical Érika a la isla de Dominica, la Fuerza Aérea de República Dominicana (FARD) envió dos aviones CASA-212-400 con importantes cargamentos de medicinas, donadas por la Organización Panamericana de la Salud OPS a esa nación.
La tormenta Erika arrojó lluvias torrenciales y vientos huracanados sobre la pequeña isla, causando muertes, inundaciones, destrucciones de viviendas, deslaves y otros graves daños, lo que ha motivado el envío de ayuda humanitaria.
Ante un pedido de ayuda de Dominica, la OPS que tiene su centro de mando en nuestro país, pero mantiene un almacén para acopio de medicamentos en Haití, en vista de que ese país no tiene logística para transportar los mismos, acudió al Presidente Danilo Medina Sánchez, Autoridad Suprema de las Fuerzas Armadas y la Policía Nacional, para poder materializar la medida de socorro.
El Comandante General de la FARD, Mayor General Piloto Elvis Marcelino Féliz Pérez, tan pronto recibió las instrucciones de la Presidencia, ordenó el uso de los aviones para la misión de auxilio humanitario, y los medicamentos luego de ser traídos al país, fueron transportados a la isla de Dominica en las dos aeronaves cargadas en la Base Aérea San Isidro.
Se trata de 9 mil 320 libras de medicamentos llevadas a la pequeña isla en los dos CASA-212-400 este miércoles 09 de septiembre, luego de que la tormenta Erika azotara a Dominica con copiosas lluvias, vientos de 50 millas por hora y ráfagas de hasta 60 mph el pasado jueves.
Las aeronaves, que despegaron de la línea de vuelo de la base militar a las 5:00 de la mañana, pertenecen al Escuadrón de Rescate de la FARD.
Helping hand
Barbados is to make a cash contribution to Dominica's rebuilding efforts following the devastation caused by Tropical Storm Erika on August 27.
Prime Minister Freundel Stuart, who is also the Chairman of the Caribbean Community (CARICOM), revealed in Dominica today that each member country had been asked to give at least US$100,000 to Dominica, and that he had already instructed Minister of Finance Chris Sinckler to make Barbados' US$100,000 contribution available to Roseau as soon as possible.
Tropical Storm Erika dumped an estimated 12 inches of rain on Dominica during a six-hour period, causing death and widespread damage to property and infrastructure. The authorities said 31 people have been confirmed dead, with several more still missing and presumed dead.
Dominica's Prime Minister Roosevelt Skerrit announced that the storm had put the country back 20 years and that over EC$650 million was needed to rebuild the damaged infrastructure.
Prime Minister Stuart took a tour of Dominica earlier today, where he viewed the devastating damage dealt by the storm, and later made a plea for international financial organizations not to "disqualify" Caribbean countries from receiving concessionary financing in times of need.
And while he pledged to donate US$100,000 on behalf of the Barbados Government, Stuart insisted that while the region had developed significantly, its location meant that they were still very much "fragile."
"This is the point that we continue to make . . . that when larger countries and international financial institutions take the view that we have developed enough to qualify us for graduation to what they call middle income status and disqualify us from access to concessionary financing, we have to constantly make the point that all of that maybe true, but there is a certain fragility that attaches itself to it because all of that can be wiped out in a few hours by a serious hurricane or by unseasonal rainfall," the Prime Minister said during a press conference held in the island's capital, Roseau.
"The measure being used to disqualify us is unrealistic and fictional. It does not have any credible relationship with the reality of our circumstances that we are vulnerable countries . . . " he added.
Stuart pointed to similar natural disasters, such as what happened in St Vincent in 2013 when excessive rainfall wiped out 17 per cent of that country's Gross Domestic Product (GDP) in less than three hours, and stressed that unlike the United States where different states were severely affected by hurricanes Katrina and Sandy, those events did not affect the functioning of the country.
"But when you have a hurricane in any of these CARICOM countries, they are not local events, they are national events. They affect every aspect of life across the country and they force governments to go back to the drawing board in terms of their priorities . . . they have to budget and so on. So we cannot take these situations lightly," Stuart urged.
He said he was "shocked" at the damage he saw during an aerial tour of the country.
And while he praised Dominicans for the great courage they had shown so far, he said it would be a long time before their lives returned to normality.
"I was astounded by what I saw. It's one thing to sit down in Barbados and to watch news and hear news reports about what happened here. But that is just the walk as it were by faith. To come and walk by sight and to actually see what happened here in Dominica was shocking for me.
"And then of course to go on the tour which I went this afternoon and to go to certain areas to see close up what this country went through, it is really a very difficult period for the people of Dominica," Stuart admitted.
"What I saw today is going to take some substantial time to repair and the people of this country will have to show enormous patience and resilience as the march back to a quality of life that corresponds to what existed before returns."