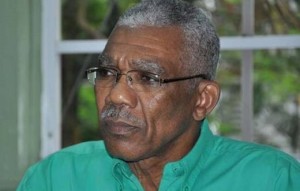 Guyana acusa a Venezuela de reclamar zona de mina de oro
Venezuela está avivando una disputa fronteriza al reclamar un territorio de Guyana donde se ubica una de las minas de oro más grandes de Sudamérica, acusó el presidente guyanés el jueves.
El presidente David Granger dijo el jueves que Venezuela envió una carta a Guyana Goldfields, con sede en Toronto, advirtiendo de posibles consecuencias legales por operar en un territorio reclamado por Venezuela. Granger acusó al gobierno de Venezuela de tratar de ahuyentar a inversionistas extranjeros de Guyana.
La mina es uno de los mayores proyectos de inversión de Guyana. Da empleo a 500 trabajadores y se espera que produzca tres millones de onzas de oro en unos 17 años.
Guyana Goldfields no respondió de inmediato a la solicitud de comentarios.
Desde hace tiempo Venezuela ha reclamado 40% del territorio de Guyana y extendió este año sus límites marítimos luego de que se descubriera petróleo en la zona de conflicto. Naciones Unidas funge como mediador en la disputa.
We will remain strong in the face of all aggression – President Granger
Venezuela's ongoing aggression against Guyana continues with the neighbouring country now attempting to bring about the end of the operations of the Guyana Goldfields Inc at its mine in Aurora, Region Seven (Cuyuni-Mazaruni).
This was disclosed by President David Granger as he was addressing the full Parliament on Thursday. In his remarks, the President stated that the Spanish-speaking country has warned the Canada-based mineral exploration company that legal action would be taken if the company moved ahead with operations at the gold mine.
He noted that the letter, dated October 13, 2015, was sent by Venezuela's Ambassador to Ottawa to the Chief Executive Officer (CEO) of Guyana Goldfields Inc. "The letter warned, inter alia, that the opening of the gold mine would be:"infringing on the territorial sovereignty of Venezuela and committing unlawful actions which could incur legal consequences. As such, you are hereby fully given notice of the respective legal actions that could herein occur," the President informed the House.
According to the President, Venezuela continues to breach the Geneva Agreement of 1966 by asserting new claims, promulgating new decrees purporting to lay claim to vast expanses of Guyana's Exclusive Economic Zone and dissuading foreign investors from developing Guyana's territory.
He went on to point out that the recent "Ottawa letter" reflects the approach adopted by the late Venezuelan President Hugo Chávez, during his state visit to Guyana in February 2004. President Chávez had plainly told the press that his Administration would have no objection to everyday infrastructure works such as roads, water and electricity that directly enhanced the lives of residents.
However, he had pointed out that strategically sensitive projects – including major offshore oil exploration ventures, mineral exploration or the involvement of foreign Governments – were another matter. The former Venezuelan President said that these should be discussed within the framework of the High-Level Bilateral Commission (Comisión Bilateral de Alto Nivel).
"The 'Chávez doctrine', in short, meant that Venezuela demanded a role in determining the developmental destiny of Guyana's Essequibo. Another impudent example of that 'doctrine' was President Chávez's opposition to the proposed satellite project in the Barima-Waini Region in 2000. Chávez at that time intervened to undermine the agreement between the Government of Guyana and Beal Aerospace Technologies Inc, which aimed at establishing a satellite launch station in the Barima-Waini Region.
Moreover, the Guyanese Head of State went on to mention the October 2013 incident, during which the Venezuelan Navy seized a petroleum exploration vessel in Guyana's water. He said despite "so-called bilateral dialogue" between the two neighbouring countries following that incident, the Bolivarian Republic continues to display aggression against Guyana with the aim of obstructing development here.
"The Venezuelan naval corvette – the Yekuana – expelled the Teknik Perdana, a petroleum exploration vessel, from Guyana's Exclusive Economic Zone (EEZ). The vessel, however, never returned to continue its work. The investors as well as others were scared into inactivity by the Venezuelan aggressive naval action. Venezuela's claim that Guyana is an aggressor defies logic and plain common sense. Who is the aggressor? Who owns the corvette," the President outlined.
In addition to having its navy expel vessels from Guyana's waters, President Granger said that the neighbouring country also promulgated decrees purporting to annex Guyana's maritime spaces. He added it also augmented its military manpower and exhibited offensive weapons and materiel at unprecedented levels as well as conducted provocative manoeuvres on Guyana's border.
Additionally, the Guyanese leader highlighted that Venezuela also recalled its Ambassador to Georgetown and suspended the process of acceptance of Guyana's Ambassador-designate to that country.
"Guyana reacted to these provocations with dignity and firmness and on the basis of compliance with international law. It has always been respectful to the government and people of neighbouring states, confident in the correctness of its policies and in the justice of its cause. Guyana has no need to resort to force to advance its rights," the Head of State noted.
Nevertheless, President Granger pointed out that Guyana continued to urge a peaceful and expeditious solution to the controversy arising from Venezuela's contention that the Arbitral Award of 1899, under which Venezuela was granted over 13,000 km² of territory, was a nullity.
The Head of State explained that he was awaiting the findings of the high-level United Nations team which visited both Georgetown and Caracas recently. The President, however, is adamant that a recourse to a juridical process as a final and binding means of resolving the controversy is the best process to finally resolve the controversy between the two neighbouring countries.