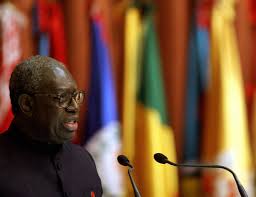 Former Suriname president quits parliament
In an unexpected move, former president Ronald Venetiaan resigned on Friday from Suriname's parliament. In a letter to Speaker of the House Jenny Geerlings-Simons, the former head of state announced that from October 27, 2013, he will no longer be a member of parliament.
In an interview, the former leader didn't present any specific reasons why he is resigning and why now.
"I just want to give younger persons the opportunity to serve in this capacity," he said.
Venetiaan's seat in parliament will now go to his fellow party member Hesdy Pigot, who was also his secretary during his presidency.
According to former speaker of the House, Emile Wijntuin, Venetiaan kept his integrity during his entire political career, starting as a minister of education in 1973 and later as president.
"During all those years not once was his name mentioned in any corruption scandal, controversy or whatsoever," said Wijntuin.
Ronald Runaldo Venetiaan (born June 18, 1936) served as the sixth, eighth and ninth president of Suriname. His first term as president ran from 1991 to 1996, after which he lost in the elections to Jules Wijdenbosch. In 2000, however, he regained his former position under the New Front banner, receiving an absolute majority of 37 from 51 votes in the Parliament. In 2005, Venetiaan defeated Rabin Parmessar of the NDP to secure a third term as president.
In his first term, Venetiaan implemented a structural adjustment programme that put the Surinamese economy, which was then in shambles after the 1980-1987 military dictatorship was thrown out of office through democratic elections, back on track to recovery.
In 2000, Venetiaan was again elected to lead the nation after Wijdenbosch also ran the economy to the ground. During his second and third terms, Suriname recorded record economic growth of over 5 percent and gained the status of a middle-income country.
During Venetiaan's first term in office, Suriname became a member of the Caribbean Community (CARICOM) in 1995.
With a total of 15 years in office, Venetiaan, a physicist and mathematician by profession, is Suriname's longest serving head of state.
http://www.caribbeannewsnow.com/topstory-Former-Suriname-president-quits-parliament-18325.html