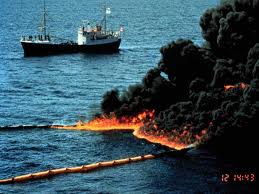 EMA acts on Petrotrin
The Environmental Management Authority (EMA) will soon serve Petrotrin with a notice of non-compliance with environmental regulations arising out of the oil spill that began on December 17 along the south-western peninsula. Environment Minister Ganga Singh, speaking with the T&T Guardian in a telephone interview yesterday, confirmed that the EMA will be serving Petrotrin with the notice within a couple of days.
"There has been a breach, there have been environmental breaches that have occurred with this oil spill, and the EMA will be taking the necessary legal action in accordance with the law against Petrotrin. There has been a breach and they will be served shortly with a notice of violation," Singh said. Singh's comment came even as La Brea residents yesterday staged demonstrations to express their disappointment over the way the state-owned company has been treating them since the spill affected their daily lives.
The notice attracts a daily fine that could run in excess of US$50,000. This will add to the growing list of expenses to the embattled oil company, which is also facing claims of compensation from affected fishermen and residents.
EMA, IMA monitor marine life
Singh told the T&T Guardian he met with the committee that was set up to monitor the environmental impact of the oil spill. The EMA, Institute of Marine Affairs (IMA) and other environmental agents form part of that committee, Singh explained. He said since the oil spill occurred on December 17 and spread to La Brea on December 18, the EMA and IMA has been updating him daily on the progress of clean-up operations.
"The IMA will be monitoring the impact of this oil spill, in the short medium and long-term, on our marine life, " Singh said. "There will be certain regulatory and enforcement issues that the EMA will deal with (as it pertains to) Petrotrin. It is really a tragedy that this oil spill is now impacting upon our environment and we intend to continue the monitoring of this impact while the regulatory bodies deal with the enforcement issues and the penalties associated with that against Petrotrin."
On Monday, fishermen based at Otaheite Bay took media personnel on a boat tour to the protected Aripero Wetlands and Dow Mangrove, Rousillac, where the oil spill has started to intrude. Yesterday, Singh said he was distressed by the possible environmental damage that the oil spill might inflict on the eco-sensitive environment in the protected wetland.
"I am very concerned with the intrusion of the oil into the mangrove as it impacts upon the birds and aquatic life in the mangrove and the whole question of the impact of the oil spill on the biodiversity and also on the marine life in the area," he lamented. He described the oil spill situation as a "tragedy."
http://www.guardian.co.tt/news/2014-01-01/ema-acts-petrotrin