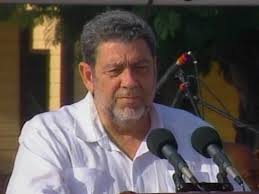 Prudence, patience and enterprise
Prime Minister Dr. Ralph Gonsalves has announced an increase in the excise tax on gasoline as he insisted that the government's fiscal policy for 2014 will continue to be a mixture of prudence, patience and enterprise.
Gonsalves, delivering the budget statement on Monday evening in the wake of the devastating Christmas floods that have left EC$330 million (One EC dollar= US$0.37 cents) in losses and damages, also announced lower gasoline price and increased diesel price as part of the government's regular review of the retail prices of these fuels.
Parliament on December 9 approved the Estimates of Revenue and Expenditure for 2014 totalling EC$911.57 million and Prime Minister Gonsalves said that the Christmas Eve floods have "altered profoundly the immediate socio-economic context of the 2014 budget.
"The upshot of this is that the 2014 Estimates which were approved in December 2013, and upon which the 2014 Appropriation Bill is based, has to be supplemented with the next four to six weeks or thereabout," he told lawmakers.
He, however, said that while the budget was interim in nature, "this does not mean it is provisional or temporising on fact or law.
"This budget is aimed at strengthening our socio-economic base for recovery and reconstruction after a natural disaster in a context of on-going global economic uncertainty and downside risks," Gonsalves told Parliament.
He said that the supplementary estimates and appropriations bill to be brought before Parliament would contain "both altered and additional provisions to reflect the profoundly changed circumstances of our country.
"Altercations and additions are to be expected on both the recurrent and capital sides of the approved Estimates," Gonsalves said.
He said that preliminary estimates from the natural disaster, which left nine people dead and three others missing, tells "a horrendous story" as far as loss and damage to infrastructure and agriculture is concerned.
The World Bank has estimated the damages and losses at EC$291.4 million or 15 per cent ofgross domestic product GDP, but Gonsalves, however, said that the World Bank's figure underestimates the damage to agriculture by nearly EC$5 million and does not include damage assessment to the forest.
He told lawmakers that the Food and Agricultural Organization (FAO) estimates the damage and loss to the agricultural sector at EC$8.4 million, and to forestry at EC$24 million.
"It is a monumental blow to our society and economy; damage of between 15 and 17 per cent of GDP is huge and devastating," Gonsalves said.
Opposition Leader Arnhim Eustace will lead off the debate on the fiscal statement later on Tuesday.
http://cananewsonline.com/news/95098-prudence-patience-and-enterprise.html