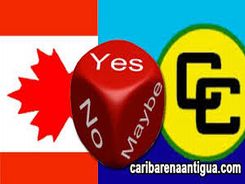 Avanza acuerdo comercial entre Caricom y Canadá
CARICOM-Canada Agreement must take full account of Community's development interests – CARICOM Secretary-General
The Trade and Development Agreement being negotiated between the Caribbean Community (CARICOM) and Canada must take into full account the Community's development interests, given the differences in size and levels of development between the two sides, CARICOM Secretary-General, Ambassador Irwin LaRocque said on Friday.
Addressing the opening ceremony of the 38th Meeting of the Council for Trade and Economic Development (COTED) at the Pegasus Hotel, Georgetown, Guyana, the Secretary-General noted that the negotiations were at a critical juncture as both sides were working towards conclusion by next month.
The Meeting will undertake a thorough assessment of where "we are in the negotiations and the flexibilities required to achieve a mutually beneficial agreement," the Secretary-General said. He pointed out that good progress in the negotiations had been made since the beginning of this year, and both Sides were pleased that text negotiations were concluded, ad referendum, on matters such as Technical Barriers to Trade, Trade Facilitation, Customs Procedures and Transparency in Government Procurement.   
In his remarks, Secretary-General LaRocque also referred to COTED's engagement on Saturday with representatives of the business community. He acknowledged the "critical role" of the private sector in the Region's economy and pointed out that the task was to create a structure that would give the business community a meaningful role in assisting to set the policy objectives. This type of involvement, he said, would increase the likelihood of creating the environment conducive to conducting business and attracting investment, both of which were critical to providing employment and a platform for economic growth. 
Among the issues that he said would merit attention at the dialogue between the Trade Ministers and the private sector were the ease of doing business in the CSME; the harmonisation of standards and procedures including Sanitary and Phyto-Sanitary Measures; public private partnerships; transportation, including port infrastructure and customs procedures; energy affordability and efficiency; the application of Information and Communications Technology; and Human Resource Development.
http://www.caricom.org/jsp/pressreleases/press_releases_2014/pres106_14.jsp