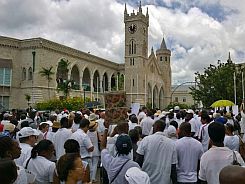 Miles de personas marchan en protesta por la creación de nuevo impuesto
Thousands of Barbadians march in protest against solid waste tax
Thousands of Barbadians took to the streets on Thursday to protest against the imposition of the Municipal Solid Waste Tax.
The midday march, led by Mia Mottley – leader of the opposition Barbados Labour Party (BLP) ended outside the office of Prime Minister, Freundel Stuart, where she delivered a letter of protest on behalf of people across the island.
"Today is about sending a message to the government about this bad Solid Waste Tax that they need to repeal and rethink," Mottley said before proceeding to Prime Minister Stuart's office.
"The people of Barbados have spoken across the length and breadth, that we've had 27 other taxes and fees imposed on us in the last six years. We can take no more."
"This march is for the repeal of the Solid Waste Tax. This march is for a new government mechanism that allows us…as Bajans not to be surprised by a tax , not to be unfaired [sic] by a tax.
"But we say we know we are in trouble as a nation. Talk to your people Freundel, and let us work with you.
"And if you cannot talk to your people and let us work with you, do the decent thing and step one side."
This new tax was announced last year with a sweeping .03 per cent charge on the site value of real estate property across the island, but there have been widespread complaints about the financial burden it places on residents.
http://www.caribbean360.com/news/thousands-of-barbadians-march-in-protest-against-solid-waste-tax
Mia pleased with today's march
Opposition Leader Mia Mottley says the "massive" turnout for today's anti-Municipal Solid Waste Tax march shows the Freundel Stuart administration that Barbadians were willing to stand up against "a bad tax".
Mottley told a news conference at the end of the trek to Government Headquarters that the letter she delivered to Prime Minister Stuart urged him to set up a new governance mechanism, which she contended the country needed.
"Today was to set out … I have written the Prime Minister a letter, it is a genuine letter; let him have the opportunity to read it, let him have the opportunity to respond. You would know that we have called for the new governance mechanism too many times. But this is not a case of us now wanting it, this is a case of the country needing it," Mottley added.
Earlier, while on the march, she told the supporters today's event was the first in a series.
At the news conference, the Opposition Leader said the demonstrators, numbering between 3,000 and 5,000, were sending a message to the authorities that they wanted to be heard on the levy, which she is urging Prime Minister Stuart to repeal.
Asked what she took away from the march considering attendance she replied: "That the people of Barbados want to be heard, that this is a bad tax, that they feel that their government is ignoring them. When last has this number of people stood up for anything in Barbados?"
"They tell me when people had passed Harbour Lights, people were still down by Bethel Church. But I didn't see it. Suffice it to say that I know for sure that these numbers have not stood up in Barbados as one for anything and we keep saying people are frightened and it is probably true," Mottley pointed out.
She said she understood workers employed by the Financial Services Commission were instructed not to get involved in today's protest march.
"Don't mind you can't tell people what to do in their lunch hour, don't mind you can't do it because there is freedom of assembly. There is too much intimidatory tactics. But the people have said, irrespective of what you do, there are some of us who are prepared to stand up, and to those who did not come together, we give you comfort that we will hold their shield broad enough to cover you, so that we can move forward peacefully in this long journey to the hope, to restoration," Mottley continued.
The Opposition Leader complained about the treatment meted out to her when she arrived at Government Headquarters to present a letter to the Prime Minister, regarding the tax.
"The Members of Parliament and caretakers accompanied me, along with a few ordinary citizens; and when we got there [Government Headquarters] we were told that we could not carry the letter to the Prime Minister's Office. I didn't expect necessarily to see the prime minister, although I must tell you that if I was prime minister of this country and somebody came to me, I would come to them and greet them, because it is common courtesy and especially if you are holding a constitutional post," added the Opposition Leader.
"Regrettably the prime minister's s security came, you were there, you heard how he addressed me, you heard how he addressed the crowd that was there, and before that got out of hand and bearing in mind that we had a couple thousand people in the hot sun, we felt that after 10 minutes of waiting, we left the letter there and came out; because it wasn't fair to the people outside who were waiting.
"As [soon as] we got in the yard, somebody told me that somebody was coming, but by that stage we were then walking," she noted.
Mottley told reporters this did not surprise her. "This was not something that happened out of mid-air. These are the kinds of things that we say are wrong with the governance of this country. There has to be a tone of leadership that raises this country, not diminishes each of us," she contended.
http://www.barbadostoday.bb/2014/07/25/mia-pleased-with-todays-march/