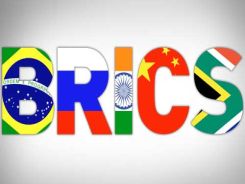 Presidentes de Guyana y Suriname participarán en la cumbre de los BRICS
Guyana and Suriname leaders invited to meet BRICS leaders in Brazil
The leaders of Guyana and Suriname, Presidents Donald Ramotar and Desi Bouterse, are among other South American heads of government invited by Brazilian President Dilma Roussef to attend the seventh Brazil, Russia, India, China and South Africa (BRICS) summit in Forteleza from July 15 -16.
The member countries of BRICS represent 40% of the global population. Both Guyana and Suriname have large populations of people of Indian origin. These two English- and Dutch-speaking countries are also keen to forge stronger economic and commercial ties with the BRICS group.
The summit will be attended by India's new prime minister, Narendra Modi, who is calling for changes to the United Nations Security Council. India, like Brazil and South Africa, all BRICS members, are seeking permanent membership in the Security Council. Russia and China are already permanent members.
Modi will hold a multi-lateral meeting with South American leaders according to India's foreign minister.
According to Indian media, the agenda of BRICS will consider "social inclusion and sustainable development." Asked whether the proposed BRICS Development Bank would come into being during the summit, and whether its headquarters would be Shanghai, Sujata Mehta, India's secretary of economic relations said to the Indian media that intense negotiations were underway on "all aspects."
Argentina's President Cristina de Kirchner will attend the special BRICS meeting with South American leaders in Brasilia, especially that her country wants to join the group. Its candidacy is supported by India, Brazil and South Africa.
BRICS and South American leaders may call for an end to mass surveillance by the US National Security Agency (NSA). South American nations are also jointly exploring the creation of a communications system to curtail US spying in the region.
In a related development, Russian President, Vladimir Putin, will visit Argentina and Cuba before arriving in Brazil for the BRICS summit.
http://caribbeannewsnow.com/topstory-Guyana-and-Suriname-leaders-invited-to-meet-BRICS-leaders-in-Brazil-21919.html