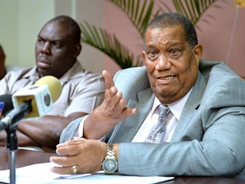 Farewell Roger!
THE bell tolled yesterday for flamboyant and jovial Minister of Agriculture and Fisheries Roger Harold Clifford Clarke.
Clarke, 74, succumbed to what medical sources suspect to be a "massive heart attack" in the United States. Ironically, he was at a Florida airport awaiting a flight to Jamaica after being reportedly cleared by his doctors following back surgery and several weeks of rehabilitation when he fell ill for the final time.
In the immediate and chaotic aftermath of the senior parliamentarian's death there were variations in the official reports.
The ruling People's National Party, to which Clarke devoted his entire mature years, stated that the Central Westmoreland Member of Parliament, often called 'Red Poll Bull' because of his size, collapsed at the Fort Lauderdale Airport in Florida, United States and was pronounced dead at hospital.
The Office of the Prime Minister later in another news release confirming Clarke's death, said that he died in a Florida hospital where he had completed surgery on a bad back.
By late afternoon, a statement attributed to Prime Minister Portia Simpson Miller said that Clarke complained of chest pains and discomfort while he was at the Miami International Airport, en route to Jamaica, after which paramedics were called in. He was rushed to the University of Miami Hospital where he was pronounced dead at 11:30 Miami time or 10:30 Jamaica time, Simpson Miller said.
Apart from his political colleagues and thousands of admirers and supporters in Jamaica and overseas, the Glen Islay, Westmoreland-born Clarke leaves behind widow Sandra, who accompanied him on the trip for treatment last month, a son and daughter.
Reports of the politician taking his own discharge from hospital in order to return home and assume his duties as agriculture minister were indirectly put to rest yesterday by the later Simpson Miller news release, which also said that the likeable Clarke had successfully completed surgery on his back and had been cleared by doctors to return home.
Clarke supported Simpson Miller with a magnet and steel-like political loyalty for several decades and already political analysts have said that his death will leave a massive void in the Simpson Miller administration, as he was seen as one of, if not the closest member of the Cabinet to Simpson Miller.
Scores of organisations and individuals yesterday spared no accolade in describing the Manning's High School past student's role in Jamaica's development.
Always accompanied by an infectious wit, Clarke entered elective politics in 1986, after working in the local sugar industry, and for the Coptic agriculture organisation in St Elizabeth.
He won the Balaclava Division in North East St Elizabeth and was elected Mayor of Black River and chairman of the St Elizabeth Parish Council by his peers.
As the story goes, Clarke wanted to run in the general election of 1989 over the incumbent Sydney Pagon, who many had said was too old for politics, but was called aside by then Prime Minister Michael Manley and told not to challenge Pagon in a constituency run-off.
By the Local Government election of 1990, a year after the PNP returned to national leadership after a nine-year absence, Clarke was again made mayor, a position he held until 1991 when a by-election emerged, following Pagon's death.
He won the seat over the JLP's JC Hutchinson, now MP for North West St Elizabeth, and was soon after appointed minister of state in the Ministry of Agriculture. By 1995, Clarke had been promoted by then Prime Minister P J Patterson to minister of local government and works, and three years later he was sent back to the Ministry of Agriculture to assume the role of minister.
Clarke sat in the minister's chair for nine years until the government changed in 2007 with a close victory by the Jamaica Labour Party over the PNP.
But before that time he had indicated to Simpson Miller, who succeeded Patterson as PNP president and prime minister in 2006, that he would relinquish the stranglehold that he had on North East St Elizabeth, which he dominated for a fraction over 15 years, due to failing health.
By then, young Senator Kern Spencer had been thrown into the political training ring, and had essentially taken control of the North East St Elizabeth organisation. After passing through several rounds of campaign jabs and uppercuts, Spencer became the undisputed PNP candidate for the constituency in the 2007 contest.
However, Clarke's freedom to fish at his own leisure, play dominoes and plant roses when he chose to, was postponed by Simpson Miller, who, upon the advice of a certain party elder, demanded of the emerging political retiree that he unpack his bags and head to Central Westmoreland in a seat that was vacated by the controversial. Dr Karl Blythe, since Spencer was firmly planted in North East St Elizabeth.
All told, Clarke won six general elections — four in North East St Elizabeth and two in Central Westmoreland, and two in local government.
A former chairman of the Alliance of Ministers of Agriculture, Clarke was also a founding member of that august group.
Among his last duties was the move to implement a traceability system for cattle, which would involve tagging Jamaica's entire cattle population, which was designed to reduce praedial larceny.
Prior to the general election of December 29, 2011 and his subsequent appointment of minister of agriculture and fisheries on January 6, 2012, Clarke told the Jamaica Observer to wait a while longer for his retirement, following the publishing of an article in the Sunday Observer which speculated about his imminent retirement from politics.
"Wa you a try run me out a politics for, man? How you want a young, fit bway like me fi retire," he stated.
http://www.jamaicaobserver.com/news/Farewell-Roger_17438553
Roger Clarke Was "One of a Kind" – PM
Prime Minister, the Most Hon. Portia Simpson Miller, has expressed deep regret and sadness at the passing of the late Minister of Agriculture and Fisheries, Hon. Roger Clarke.
Speaking to journalists at Jamaica House on August 28, Mrs. Simpson Miller, described the late Minister as "one of a kind", noting that his passing has created a tremendous void in the Government and the People's National Party (PNP).
"Roger was a one of a kind politician. A son of the soil, a humble man and I will always remember him for his generosity of spirit, but also for his contribution to Jamaica as councillor, mayor, Member of Parliament, and Minister of Government," she stated.
Minister Clarke died this morning (August 28) at a hospital in Florida in the United States, where he was recuperating from back surgery.
It is reported that Minister Clarke was at the Miami International Airport awaiting a flight to return to Jamaica, when he complained of chest pains and discomfort.
Paramedics were called and they performed Cardio Pulmonary Resuscitation (CPR). He was then rushed by ambulance to the University of Miami Hospital where he was pronounced dead at 11:30 a.m. (Eastern Standard Time).
The Prime Minister said that in the coming weeks a decision will be made as to a portfolio assignment for the Ministry of Agriculture and Fisheries.
"I'm looking at whom I will keep there and perhaps use one of the Ministers of State as assistant, so that we can get the job done," she said.
The Prime Minister also noted that Cabinet will meet to decide on funeral arrangements for the late Minister. It is customary that Ministers of Government are accorded an Official Funeral.
As it pertains to his constituency, Mrs. Simpson Miller said the residents of Central Westmoreland "will indicate the best person to fill the big shoes of Roger Clarke".
The Prime Minister further expressed condolences to his widow, members of his family, and his constituents of Central Westmoreland on behalf of the Government and people of Jamaica.
"We are all saddened and shocked by his passing, because he called a number of us and said he would be coming home this week. He was very excited about returning to Jamaica," Mrs. Simpson Miller said.
Minister Clarke has had a successful political career, having won eight elections comprising two Local Government and six General Elections. In 1986, he was elected Councillor for the Balaclava division in St. Elizabeth, and was nominated Mayor of Black River and Chairman of the St. Elizabeth Parish Council.
He was subsequently re-elected in the 1990 Local Government Election where he continued as Mayor. Mr. Clarke also served a four-year period as President of the Local Government Authorities from 1988 to 1991.
He went on to a bigger political stage in 1991 when he was elected Member of Parliament for North East St. Elizabeth in a by-election. Three months into the job, he was promoted in early 1992 to State Minister for Agriculture, a position he held for three years and by 1995, he was appointed Minister of Local Government and Works.
By 1998, he was back in familiar territory as Minister of Agriculture, where he served for 10 years. During that period, he was one of the founding members of the Alliance of Ministers of Agriculture for CARICOM, and served as its chairman for many years.
On January 6, 2012, Mr. Clarke was re-appointed Minister of Agriculture and Fisheries.
http://jis.gov.jm/roger-clarke-one-kind-pm/
Politicians praise Roger Clarke
POLITICIANS on both sides of the political aisle in Parliament yesterday expressed regret at the passing of Minister of Agriculture and Fisheries Roger Clarke, in Miami, Florida.
Prime Minister Portia Simpson Miller said that Clarke, a member of her ruling People's National Party (PNP) and one of her strongest allies in the party, was a special kind of person.
"[He was] a one of a kind politician who was loved not only by members of his party, but people on the other side. He was loved by Jamaicans from all walks of life," Simpson Miller said in a statement following the announcement of his death in Florida.
"His caring, gentle and compassionate spirit was matched by his generosity, good humour and laughter; it is hard for us to be sad when Roger Clarke was a man who brought laughter to so many of us," she said.
Leader of the Opposition Andrew Holness told the Jamaica Observer that he was deeply saddened by the passing of Clarke, whom he described as a "colleague and friend".
"He was the most affable politician I know. Blessed with wit and an infectious sense of humour, he was able to make us laugh at ourselves," Holness said.
Former Prime Ministers Edward Seaga and Bruce Golding, although representing the Opposition Jamaica Labour Party (JLP), also publicly expressed their sandess.
Clarke's parliamentary adversary, the Opposition's spokesman on agriculture and fisheries, JC Hutchinson, recalled him as "champion of the agricultural sector who contributed significantly to its development, both as minister and as a farmer".
Clarke, 74, generally regarded as one of the most humorous MPs, and whose affability often bridged the deep political divide between representatives of the two dominant political parties — the governing PNP and the opposition JLP — inside Gordon House, died shortly before noon yesterday.
"I will miss his wise counsel, his tremendous sense of duty to public life and his outstanding contribution to agriculture," the prime minister said yesterday.
Holness, meanwhile, said that Clarke could make politicians on both sides laugh at themselves, "even in the midst of contention".
Minister of Tourism and Entertainment Dr Wykeham McNeill, who like Clarke represents a constituency in the parish of Westmoreland, said that Clarke was as an excellent minister of agriculture who was quite suited for the role, being one of Jamaica's most successful farmers.
"In recent years we had been working hand in hand to strengthen the linkages between tourism, agriculture, manufacturing, entertainment and other key sectors through the Tourism Linkages Hub, which is housed in my ministry," McNeill said.
Leader of Opposition Business in the House of Representatives Derrick Smith said he never had a dull moment inside Gordon House when Clarke was present.
"He is the kind of individual I wouldn't like to oppose in a parliamentary election because he gets along with people so easily," Smith said.
Another Opposition MP, Edmund Bartlett, a cousin of Clarke, said that they not only grew up in neighbouring communities in Westmoreland, but that Clarke's widow was a classmate at St Elizabeth Technical High School, as well.
"When he came to Parliament in 1992, he was always willing to share his advice. He had a penchant for visiting people and sharing their food and drink," Bartlett.
"His children and mine were very close while they were growing up in Florida, especially his son, Andrew," Bartlett said. "Roger was the politician's politician; he understood the grassroots and related to it with a passion."
http://www.jamaicaobserver.com/news/Politicians-praise-Roger-Clarke_17438652