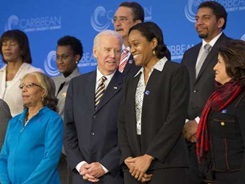 Biden: U.S. will help Caribbean nations revamp energy sector
Vice President Joe Biden met with leaders of Caribbean nations Monday, saying the U.S. would do what it could to help those countries revamp their energy sectors, a vital concern given the region's dependence on oil shipments from ailing Venezuela.
Speaking at the Caribbean Energy Security Summit in Washington, Biden essentially gave the Caribbean leaders a pep talk, saying that now was the time to boost alternative sources of energy, such as solar, and to decrease reliance on oil.
But he also cautioned them that – while it was poised to help – the United States wouldn't do so with its eyes closed.
To expect aid and other financing from the United States, Biden said, would mean counties need to get a handle on corruption and pick the projects that make the most sense.
"First and foremost, you have to deal with corruption," he told the gathering of Caribbean leaders and energy experts. "You need to be choosing projects because they are the most competitive, not for other reasons."
If that happens, Biden said, the United States was prepared to help.
"I guarantee you we will do our part," he said. "And we can afford it. But we're not going to waste money. We're going to insist on considerably more transparency, greater coordination and changes in regulations. We're not here to replace one flawed financing scheme with another."
The afternoon speech came after meetings earlier in the day with leaders from the Caribbean, and Biden was joined on stage by Bahamas Prime Minister Perry Christie, who talked about how small nations in the Caribbean are heavily reliant on imported oil and petroleum products.
"This makes us extremely vulnerable to the vagaries of the international oil markets," Christie said. The recent massive drop in oil prices – while seen as a net positive to the U.S. and other economies – was just another indication of how volatile the market is, he said.
Biden stressed repeatedly that the U.S. was willing to help. "This is extremely important to us. It's overwhelmingly in the interests of the United States of America that we get it right," he said. And he said that now was the moment to boost alternative energy sources.
Ticking off the success of some Caribbean nations to expand the use of solar and other renewable energy sources, Biden said changes in the energy sector "create a moment of energy opportunity that hasn't existed. Progress is possible and it's possible to begin now – not a decade from now, but now."
The summit, which followed the launch last year of the Caribbean Energy Security Initiative, was designed to help Caribbean nations on the road toward energy security. Caribbean leaders agreed to pursue comprehensive and diversified energy programs, including the introduction of cleaner forms of energy.
According to the White House, the United States' Overseas Private Investment Corp. will boost its focus on developing clean energy projects in the Caribbean, and U.S. officials have identified a team designed to identify promising Caribbean energy projects.