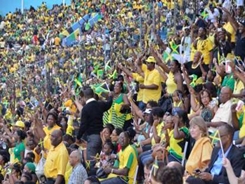 Quiet, dignified air of patriotism at Independence parade
YESTERDAY'S national Independence Day ceremony, marking the country's 53rd year of freedom from British rule, spanned approximately 70 minutes and lacked some of the lustre of previous years, but still maintained the quiet, dignified air of patriotism that is associated with the annual observance.
There were quite a number of noticeably vacant chairs at the ceremony, which was held on the lawns of King's House in St Andrew, as the audience mainly comprised State officials, Opposition representatives, and members of the diplomatic corps. Outside of specially invited guests, the occasion appeared to have attracted only a smattering of members of the general public.
Still, the modest gathering, seated under tents, which were thankfully protected by trees from the punishing morning sun, was held at rapt attention as the event unfolded, beginning with a march by uniformed youth groups.
Fanfare and musical display by the Jamaica Defence Force and the Jamaica Constabulary Force bands echoed pleasantly across the vast expanse of not-so-lush lawns, rivalled only by the effervescence of the musical quartet, URIM 7, whose soul-piercing rendition of The Messiah received earnest applause.
The drum-backed chanting and dancing of the bandana-clad Islington High school dinky mini group put a smile on the most austere of faces, as did Lee-Roy 'Ancient Priest' Johnson with his delightful, winning 2015 festival song Celebration.
The Independence Day messages, delivered by Governor General Sir Patrick Allen and Prime Minister Portia Simpson Miller, ran along similar themes of patriotism and nation-building , but the Opposition leader's message, brought by Member of Parliament Olivia Grange, deviated, chiding the Government for poorly managing the economy and calling on Jamaicans to demand accountability.
The morning's special guests included Prime Minister Portia Simpson Miller; Mayor of Kingston Senator Angela Brown Burke; President of the Senate Floyd Morris; Commissioner of Police Dr Carl Williams; Chief of Defence Staff Major General Antony Anderson; Chief Justice Zaila McCalla; and head of the public service Ambassador Douglas Saunders.
The country's Independence celebrations, held under the theme "Proud and Free, Jamaica 53", culminated with the Grand Gala at the National Stadium last evening.