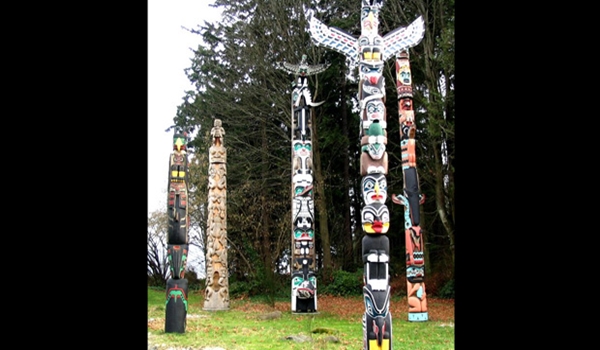 Guyana: indígenas construirán tótems para celebrar el 50° aniversario de la independencia
Totem poles to be erected in all regions
— for Guyana's 50th independence anniversary celebrations
TOTEM poles — monumental sculptures carved by Indigenous peoples on poles, posts, or pillars, with symbols or figures made from large trees — are expected to be erected in all ten of Guyana's administrative regions for the country's 50th independence anniversary celebrations next year.
Indigenous People's Affairs Minister Sydney Allicock, made this disclosure and said the idea was birthed after a meeting with Minister within the Ministry of Education Nicolette Henry, with regard to activities being planned by the Indigenous People's Affairs Ministry for Guyana's Golden Jubilee celebration.
Minister Allicock said the Indigenous People's Affairs Ministry is currently working to develop a programme through which it would contribute to the country's anniversary celebrations next year. He explained that the process might be lengthy, given that consultations with stakeholders — including the National Toshaos Council (NTC) and representatives from other indigenous groups and associations — must be facilitated.
Those consultations would then be formulated into a single plan, which the Indigenous People's Ministry would use as its guide to play its part in the country's monumental activities.
However, he said, the idea of using Totem poles has already been finalised, and the poles will be erected in all regions.
The largest pole will be erected in Region 4, he said, but this does not represent more interest being placed in that region; only that most of the planned activities will be hosted there.
The Umana Yana is also expected to be completed in time for activities to be performed by the Indigenous People's Ministry. With the proposed completion slated for April 2016, as was announced by Ministerial Advisor Mervyn Williams, works on the foundation and floor of the structure — spearheaded by the Ministry of Public Infrastructure — are expected to be completed by the end of December. Thereafter, the Indigenous People's Affairs Ministry would be responsible for building the physical structure of the conical, palm-thatched hut (benab) which was destroyed by fire last year.