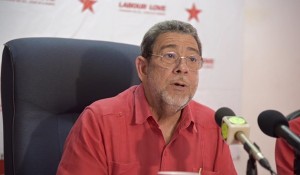 The leader of the ruling Unity Labour Party (ULP) Dr Ralph Gonsalves was sworn as Prime Minister of this Caribbean Community (Caricom) country yesterday even though Opposition supporters staged demonstrations claiming that Wednesday's general election had been rigged in his favour.
Gonsalves, who won an unprecedented fourth consecutive term in office, was sworn in, even though the leader of the main Opposition New Democratic Party (NDP), Arnhim Eustace, told reporters he had asked the Governor General not to swear in the 69-year-old Gonsalves.
Eustace, 70, told reporters that the NDP, which, according to preliminary results won seven of the 15 seats in Wednesday's general election, "would never accept the results of the election."
Eustace, who is heading the party supporters in the Central Leeward constituency where calls for a recount of the ballots case is taking place, said his candidate Benjamin Exeter had won the poll even though the preliminary results gave former foreign affairs minister Sir Louis Straker victory.
The NDP supporters, clad in their yellow jerseys, claimed that several ballot boxes were missing and were demanding that either the Electoral Office do over the poll in that constituency or announce that Exeter had won the election.
At one stage, there was a close confrontation between Sir Louis and Eustace with the police having to intervene to keep the two veteran politicians apart.
Sir Louis had criticised the decision of Eustace to bring supporters to the police station where the re-counting is taking place but Eustace insisted that he was right since the ruling party had conspired to cheat the population of its victory.
The recount is still in progress.