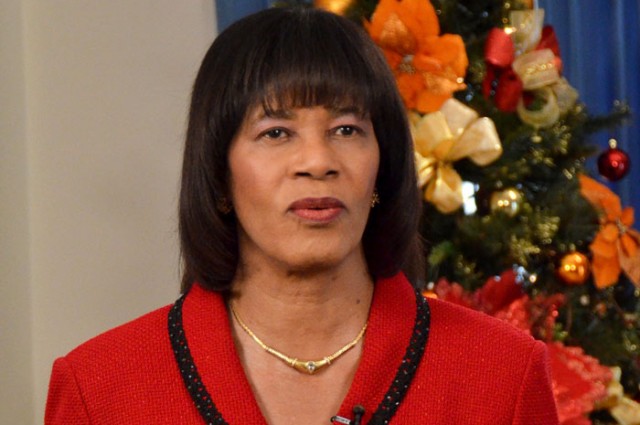 Elecciones en Jamaica: Primera ministra rechaza debatir con líder opositor
En Contexto: El próximo 25 de febrero Jamaica celebrará sus elecciones generales. Se escogerán los 65 escaños de la Cámara de Representantes y el líder de la agrupación política que obtenga más bancas será electo primer ministro para los próximos cinco años. Se presentan un total de 152 candidatos que pertenecen al gobernante Partido Popular Nacional de Jamaica (PNP), de los opositores Partido Laborista (JLP), Movimiento Nacional Democrático y Partido Político del Pueblo, además de algunos independientes..
As the ruling People's National Party (PNP) remained adamant that it will not participate in pre-election debates until an apology is forthcoming from the leader of the opposition Jamaica Labour Party (JLP), Prime Minister Portia Simpson Miller rejected a suggestion that she was trying to get out of the debates.
She told supporters at a political rally in Manchester last night that she had no reason to be afraid of facing JLP leader Andrew Holness.
"We are not afraid to debate anybody. I debated Bruce Golding in 2007, I debated Andrew Holness and I beat him in the debates in 2011," she declared. "They must deal with the issues that I have put on the table, then we can talk about debate."
Simpson Miller, through her attorney, gave Holness until last Saturday to say sorry for comments he made in a media interview that she believes were defamatory, warning that if he failed to apologize she would proceed with legal action against him.
In a letter to the Jamaica Debates Commission (JDC) last week, the PNP said that unless Holness retracted his statements, they had no intention of participating in any debate with him. The party also asked that the final of the three planned debates – the 90-minute leadership debate planned for January 20 – be held in a town hall format, similar to that used for the Democratic Party presidential candidates in the United States.
The JDC has said it is in no position to fulfill that requests, because it cannot get involved in the dispute between the political parties, and does not have the time or resources to facilitate a town hall-style debate.
And Holness has not offered any apology.
Also addressing supporters at the Manchester meeting, PNP general secretary Paul Burke who wrote the letter to the JDC, was adamant there would be no PNP involvement in any debates.
"Why should we be sitting in that room with that gentleman? Why should we sit in a debate with that man?" he said.
Burke was also critical of Holness for describing the February 7 shooting at a JLP rally that left three people dead and several others injured, as an act of terror.
He said the comment was irresponsible and dangerous and "could have caused people to shoot up people".
---