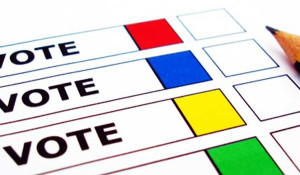 LGE Today 
TODAY Guyanese will head to the polls to exercise their franchise at the local democratic level after having been starved of this opportunity for over two decades. According to GECOM – Guyana's election regulatory body – 507,633 electors are registered on the Official Voters' List and a total of 1,562 Polling Stations will facilitate the voting process.
With the ballots for outlying areas transported via aircraft yesterday, GECOM has advised that polling stations across the country will open promptly at 6:00 am. The ballots for Georgetown and locations near the capital were expected to be transported at 3:00am this morning. Security measures have been put in place and the support in this regard will be rendered by the Guyana Police Force (GPF).
Touted as a monumental move by the 10-month old APNU+AFC coalition Government, these elections represent the restoration of democracy at the community level. Upon its assumption of office last year, the Government quickly, but proficiently pushed through the delayed legislation, and moved towards making good on its promise to host the elections.
And although the opposition had vigorously argued that the elections could not be held since the GECOM did not have the necessary infrastructure and machinery in place, the elections regulatory body had contended that it was ready. Government, through the Minister of Local Government then announced in November of last year that the elections would be held on March 18, 2016.
The total number of groups, political parties and individual candidates contesting these elections, as was stated by GECOM is 83. These include three political parties, 17 voluntary groups and 63 individual candidates.
But concerns had been raised about political parties contesting these elections, given the fact that they control and dominate the General Elections. And while there are no provisions barring political parties from contesting Local Government Elections (LGEs), President David Granger had justified the move stating that what is important is that residents have a choice to directly elect their representatives.
And while these calls for the political parties to exclude themselves from the elections fell on deaf ears, the assurance of a victory by any of these parties was threatened by the emergence of voluntary groups contesting these overdue elections.
In Georgetown for instance, Team Benschop for Mayor, led by political activist Mark Benschop, is challenging strongly given his long record of engagement at the grassroots level. Additionally, two new groups, Team Legacy and Youths for Local Government, have further intensified the political atmosphere by primarily targeting youths,the majority of whom will for the first time vote at LGEs. Independent candidates too, though not exposed to the public as much as the popular figures and groups, have confidently backed themselves, fancying their chances based on community involvement over the years.
But given the dynamics of these elections and it not being as highly polarised at General Elections, it has been difficult, even for analysts to predict how the voting will swing today.
Attracting a favourable amount of attention from the public however, is constituency 14 (South Ruimveldt Park/Ruimveldt Industrial Estate) which is speculated to be the area which is likely to produce the mayor. This perception is widely held for two reasons.
First, Benschop, who is competing as a candidate in this constituency, has identified himself to be voted as mayor should his team control the composition of the council. Second, APNU+AFC candidate Sherod Duncan has been the frontrunner in the coalition's campaign, garnering much support after the first Georgetown debate which he dominated. Complementing this is the fact that Duncan has been actively involved in the country's clean-up campaign and several environmental projects which were widely reported on in the press.
However, the debates did not only provide a platform for other candidates to promote themselves, but for them to provide glimpses of what they have to offer their constituencies should they be elected to serve as councillors.
The level of enthusiasm among the electorate too was described by many as having been dull and incomparable to that of General Elections. The contention was held that GECOM had not done a very good job in its public voter education drive. And while this might be true, it must be appreciated that the infrequency of LGEs over the decades, has resulted in the population not being socialised to acknowledge the importance of these elections.
And despite this, what is certain is that a faction of the country is in a heightened state of anxiety and appreciation for the opportunity to take back control of their communities after having them reduced to, and referred to as sections of a garbage city.
Pres Granger casts ballot in historic LGE

Guyana's Head of State David Granger was the first person to cast his ballot in a historic Local Goverment Elections (LGE) on Friday.
The President along with First Lady Sandra Granger voted at Enterprise Primary School in Durban Backlands.
Speaking to the media shortly after his ballot was cast, the President said that he believes the energy around LGE is "electric" and people will turn out to cast their ballots.
The President was particularly happy that his administration has been able "to deliver to the Guyanese people something that they craved for the last 19 years."
He said that he was confident that the APNU+AFC coalition would be able to secure a victory in these polls.
"APNU+AFC is the coalition that brought township to those communities…I have campaigned in all three and I think they are happy it was the coalition that brought township to all of them and I believe the coalition will have a decisive victory in all three of them," he stated.
Holding of the local polls was one of the major campaign promises by the Granger-led coalition of A Partnership for National Unity+Alliance For Change.
The Guyanese leader, who now resides at State House, Main Street, cast his ballot at the Enterprise School, D'urban Backlands, Georgetown. However, Granger said State House is not his permanent residence.
Opposition Leader Bharrat Jagdeo, who resides at Goedverwagting, East Coast Demerara, is registered to vote at St. John's College, Waterloo Street, Georgetown as his address is still State House.
The Guyana Elections Commission says more than 500,000 persons are eligible to cast ballots for representatives in the 72 town and neighbourhood councils . These include three new towns- Lethem, Bartica and Mabaruma.
Qué se vota en las Elecciones Locales y cuáles son sus funciones