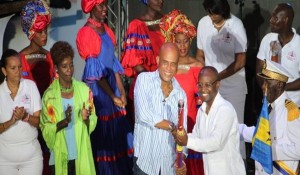 Barbados getting CARIFESTA – ready
Barbados is on track to host the Caribbean Festival of Creative Arts (CARIFESTA) for the first time in more than three decades.
Minister of Culture Youth and Sport Stephen Lashley, who divulged plans for the 2017 event during a press briefing at the Lloyd Erskine Sandiford yesterday, said the renovation of several properties, including the Sir Garfield Sobers Gymnasium and the Queen's Park Steel Shed, would be completed in time for the festival.
Referring to the event as the Olympics of cultural festivals, he gave detailed insight into the preparations so far.
"Barbados has been very early in its planning of CARIFESTA. In fact, I did give the challenge that Barbados should be CARIFESTA ready within one year of the hosting and we are on track, in terms of various aspects that we have had to address," said Lashley, who stressed the festival's importance to the cultural landscape of the region.
"I am pleased to say to you that all of the venues have been identified and we have already brought on board all of the technical know-how to commence the preparatory work," he added, noting that emergency response, safety and transportation were an integral part of the planning.
Next year will mark the second time in 36 years that Barbados is hosting CARIFESTA.
The 13th staging of the highly anticipated Caribbean cultural showcase will be held under the theme Asserting Our Culture, Celebrating Ourselves.
Minister Lashley said festivals such as CARIFESTA serve as the growth impetus for the fledging Caribbean cultural industry.
"We have identified the cultural industries as a key growth pillar on which we believe the economies of the Caribbean can be further expanded and further diversified," he said.
It was revealed that hosting the event would cost Barbados over six million dollars, but Lashley was optimistic that sponsorship from private entities would significantly reduce that bill.