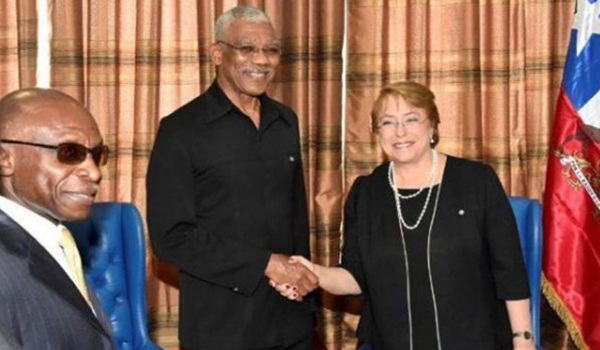 Guyana y Chile firmarán acuerdo de supresión recíproca de visas
Guyana, Chile to sign visa abolition agreement
THE Presidents of Guyana and Chile are to sign a Reciprocal Visa Abolition Agreement along with the Open Skies Air Service Agreement when President David Granger visits Chile on a State Visit this week.The State Visit begins today and will end on Wednesday, a statement from the Ministry of the Presidency disclosed on Saturday.
President Granger is also slated to deliver a lecture at the Andrés Bello Diplomatic Academy of Chile. The President's lecture will be on his vision and assessment, as well as the strategic implications of his call for the Caribbean to be preserved as a zone of peace.
Speaking ahead of the visit, the Guyanese Head of State said that relations between Guyana and Chile and the Spanish-Speaking country and CARICOM [Caribbean Community] are cordial and strong.
"Chile is a key member of UNASUR [The Union of South American Nations], CELAC [Community of Latin American and Caribbean States] and MERCOSUR; and it (was) only this year (that) an embassy was opened in Georgetown. I would say the relations are cordial and strong, and they are growing in strength now," he said.
This week's visit to Chile by President Granger follows Chile's President, Her Excellency Michelle Bachelet, visiting Guyana in July, when she held bilateral talks with President Granger and participated in the CARICOM Heads of Government meeting.
"This is a step towards strengthening the bonds between Chile and the Caribbean, too. Chile particularly has a large maritime zone, and the Caribbean really is a maritime zone; so we expect that there will be a good base for bilateral cooperation," said President Granger, who will assume Chairmanship of CARICOM in 2017.