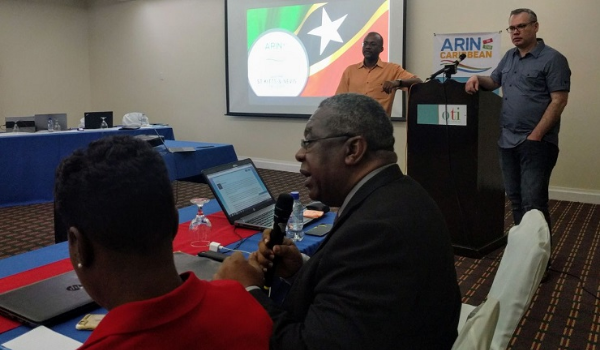 El gobierno de San Cristobal y Nieves trabaja para tener independencia digital
St Kitts and Nevis Government First in Caribbean To Get Unique Internet Identity
The government of St Kitts and Nevis has become the first in the Caribbean to have its own unique identifier on the global Internet.
An autonomous system number, called an ASN, was assigned to the Caribbean nation by the American Registry for Internet Numbers, ARIN, earlier this month. An ASN is used to identify a computer network on the global Internet, and is an important part of the system used to exchange data between the thousands of networks that make up the Internet.
Previously, the St Kitts and Nevis government network was connected to the Internet through a number assigned by a commercial Internet service provider. Now, with its own autonomous system number, the government joins the ranks of other independent network operators around the world that are identifiable by a unique number.
"With this allocation of our very own autonomous system number, our government has taken an important step toward network independence. We see this as a critical element in our plans to build our government network and to provide our citizens and business community with the digital services they are demanding and deserve," said Attorney General and Minister responsible for Justice, Legal Affairs and Communications, Vincent Byron.
As governments and businesses in the Caribbean rely increasingly on the Internet, more investment is being made in securing domestic infrastructure and developing local technical capacity. ARIN, as well as regional agencies like the Caribbean Telecommunications Union and the Caribbean Network Operators Group, has been working with the Federation to help build and secure government networks and digital services.
"With autonomy comes greater responsibility," said Bevil Wooding, Caribbean Outreach Liaison at ARIN, the non-profit corporation that manages the distribution of Internet number resources in the Caribbean, as well as Canada and the United States.
"Just as political independence entails new levels of responsibility, so does network autonomy. The government of St Kitts and Nevis has demonstrated its commitment and leadership to building the local digital economy by securing its own autonomous system number. Next, it must build on this by investing in technical training, policy development and service innovation necessary to foster innovation and new economic opportunity," he added.
He was speaking at a training workshop recently held by ARIN in Basseterre, St Kitts, where the allocation of the ASN was announced. ARIN events in Grenada, Barbados, St Lucia and St Kitts and Nevis have sparked interest in increasing the number of autonomous networks in the Caribbean. Similar events are being planned for St Vincent and the Grenadines and Dominica in the coming months.