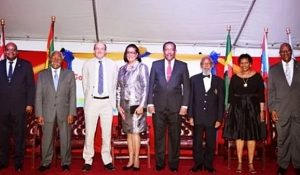 Sir Tapley Seaton, governor-general of St Kitts and Nevis, welcomed heads of state to the federation on Monday, as they assembled for the opening ceremony of the 16th conference of governors-general and presidents of the Caribbean region.
The gathering, which comprises governors- general, presidents and governors, runs from April 8 to 12 under the theme: "Challenges of a Changing Caribbean".
In his address to welcome his colleagues, Seaton expressed his delight and honour of having the heads of state in St Kitts and Nevis for such an auspicious occasion, while at the same time paying tribute to their predecessors for their "vision in convening a conference" where such a robust body "could meet and enhance collegial relationships and dialogue on national, regional and international significance".
He said that it was worthy to note that each representative hailed from varying areas of endeavour in his or her earlier career paths and, thus, is expected to play a much greater role of contributing to current affairs than just being symbolic office holders or figureheads.
"As educators, scientists, as lawyers, medical doctors, judges, acknowledged cultural exponents, as linguists and crisis leaders… we have all attained the acme of our professions and are able to bring its cumulative experience to serve our respective countries in the highest office," the governor-general said.
Seaton encouraged his colleague heads of state to be cognizant of all developments and to take the youth population into consideration.
"It is a constitutional obligation that we be kept apprised and advised of our national developments and we are constitutionally also charged to act in accordance with advice or to act in our own deliberate judgements," he said. "Whatever the roots, we are obliged to ensure that we contribute in a meaningful way in our country's developments and provide our advice and advocacy, especially to our youth and ensure that we impart the necessary values to their national well-being."
He used the occasion to especially welcome Sir Colville Young of Belize, Dean of Governors-General, who has been serving for the past 25 years. He also recognized distinguished guest and his family Minister Louis Farrakhan.
Seaton wished his colleagues a most rewarding conference as it will redound to the benefit of the region.
Other heads of state represented are governors-general: Sir Rodney Williams of Antigua; Dame Sandra Mason of Barbados; Dame Cecile La Grenade of Grenada; Sir Frederick Ballantyne of St Vincent and the Grenadines; and governor of Montserrat, Andrew Pearce, as well as Marjorie Morton, deputy governor-general of Nevis; Charles Savarin, president of Dominica; and former governor-general of St Lucia, Dame Pearlette Louisy.
Also in the federation to take part in this gathering is president of the Caribbean Court of Justice, Sir Dennis Byron and the Eastern Caribbean Supreme Court of Appeal Chief Justice, Dame Janice Pereira.
---