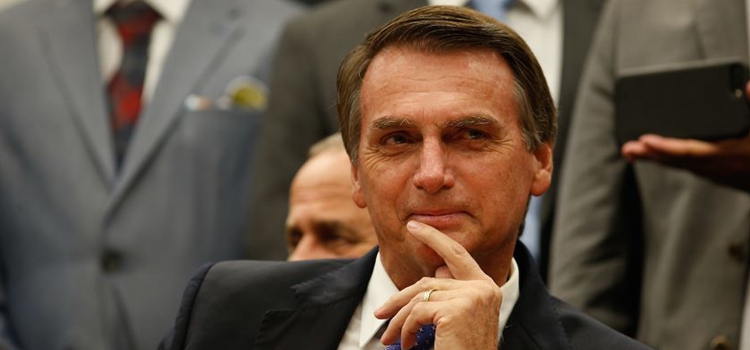 Guiño a EEUU: Bolsonaro trasladará la embajada de Brasil en Israel a Jerusalén
Bolsonaro diz que Brasil transferirá embaixada de Tel Aviv para Jerusalém
O recém-eleito presidente do Brasil, Jair Bolsonaro, confirmou ao jornal "Israel Hayom" que transferirá a embaixada de Tel Aviv para Jerusalém. Depois, publicou no Twitter uma mensagem com a mesma informação (veja mais abaixo).
Ele também adotou uma postura dura com a Palestina, dizendo que não a reconhece como um país.
Bolsonaro afirmou que sua ideia de mudar o endereço da embaixada brasileira em Israel- seguindo os passos dos Estados Unidos e da Guatemala – não era só promessa de campanha.
"Israel é um Estado soberano. Se os senhores decidirem qual é a sua capital, nós os seguiremos. Quando me perguntaram durante a campanha se transferiria a embaixada se fosse eleito presidente, respondi sim. Vocês decidem sobre a capital de Israel, não outros povos", declarou em entrevista telefônica concedida ao jornal conservador.
A transferência da embaixada, que demonstra o reconhecimento de Jerusalém como capital de Israel, é uma medida polêmica. Os palestinos reivindicam Jerusalém Oriental como capital de seu futuro Estado. A comunidade internacional não reconhece a reivindicação israelense de Jerusalém como sua capital indivisível. Entenda.
Como afirmado durante a campanha, pretendemos transferir a Embaixada do Brasil de Tel Aviv para Jerusalém. Israel é um Estado soberano e nós o respeitamos.

— Jair M. Bolsonaro (@jairbolsonaro) November 1, 2018
Embaixada palestina
Questionado pelo periódico israelense se pretende mudar o status da Embaixada da Palestina em Brasília, ele respondeu:
"Quanto à embaixada da Palestina, ela foi construída muito perto do palácio presidencial. Nenhuma embaixada pode estar tão perto do palácio presidencial, então pretendemos mudar. Não há outro caminho, na minha opinião. Fora isso, Palestina primeiro precisa ser um estado para ter o direito de uma embaixada".
Não foi a primeira vez que Bolsonaro adotou um tom duro com os palestinos. Ainda durante a campanha, ele declarou ao jornal "O Globo": "Essa embaixada palestina sairia dali. A Palestina é país? Nada contra o povo palestino. Quando estive em Israel, conversei com muitos palestinos, porque trabalham, ganham quatro vezes mais do lado de cá. Palestina não é um país".
O Brasil reconhece o Estado Palestino como país desde dezembro de 2010, após carta enviada pelo então presidente Luiz Inácio Lula da Silva para o presidente da Autoridade Nacional Palestina, Mahmoud Abbas.
A ONU também reconheceu a Palestina como um "Estado observador" após aprovação em Assembleia Geral em 2012, cuja capital seria em Jerusalém Oriental. Os palestinos querem se estabelecer como um Estado soberano que ocupe a Cisjordânia, a Faixa de Gaza e Jerusalém Oriental. Os territórios foram ocupados por Israel após a Guerra dos Seis Dias, em 1967.
Apoio na ONU
No que diz respeito ao apoio de seu futuro governo a Israel em fóruns internacionais como as Nações Unidas, o político brasileiro afirmou que o país "pode contar com o nosso voto na ONU".
"Sei que o voto é muitas vezes simbólico, mas ajuda a definir a postura que um país deseja adotar", afirmou.
Após a recente vitória eleitoral, o premiê israelense, Benjamin Netanyahu, felicitou Bolsonaro por telefone na segunda-feira (29) e o convidou a visitar Israel.
"Acredito que sua eleição levará a uma grande amizade entre os dois povos e ao fortalecimento dos laços entre o Brasil e Israel", disse o premiê israelense a Bolsonaro, segundo a Efe.
---
President-elect of Brazil promises: Israel can count on our vote
Until a few weeks ago, Jair Bolsonaro, now the president-elect of Brazil, was a little-known legislator. No one thought he would go on to become the leader of the country. But on Wednesday, a week after he astonished everyone by winning the presidential election in Brazil – the largest democracy in Latin America – Bolsonaro chose Israel Hayom for what appears to be his first interview with the foreign media, and made it clear that his support for Israel and promises about Jerusalem were not just an election gimmick.
This is part of Bolsonaro's desire to lead Brazil on a new path and free his country of the policies that he believes to be outdated – policies instated by the Left, which has been in control almost continuously since the early 2000s.
Bolsonaro is under attack for his blunt, politically incorrect style, but that's exactly what prompted the Brazilian masses to put their trust in him as their new leader. They wanted a leader that would make them proud of their country, which is currently plagued with violence and economic distress.
Many believe, incorrectly, that Bolsonaro is an extreme right-wing nationalist. But he isn't bothered by the misperceptions and says that the claims that he will end democracy say more about his opponents than they do about him.
Israel Hayom Editor-in-Chief Boaz Bismuth spoke to Bolsonaro by telephone, with the help of an interpreter.
Q: Did you know that your name, Jair, means "bringing light" in Hebrew?
"Yes, I was informed not long ago. I have the moral compass of a man who intends to do his best for his country and intends to tighten relations with other countries that think the same way we do and champion democratic elections, liberty and respect for others.
"I was in Israel two years ago and I intend to return. The Israeli ambassador to Brazil [Yossi Shelly] visited me twice this week, and I've always had excellent relations with him. I'm very happy that I'm treated so warmly and that the official envoy of the State of Israel treats me this way, and it is truly mutual. I love the Israeli people and Israel. You can depend on the fact that I will promote closeness and fruitful cooperation between us starting in 2019."
Q: You've said several times that you intend to relocate the Brazilian Embassy in Israel from Tel Aviv to Jerusalem. Will you? And do you intend to change the status of the Palestinian Embassy in Brasília?
"Israel is a sovereign state. If you decide on your capital city, we will act in accordance. When I was asked during the campaign if I'll do it [relocate the embassy] when I was president, I said yes, and that you're the ones who decide on the capital of Israel, not other people.
"As for the Palestinian Embassy, it was built too close to the presidential palace. … No embassy can be so close to the presidential palace, so we intend to move it. There's no other way, in my opinion. Other than that, Palestine first needs to be a state to have the right to an embassy."
Q: Can Israel expect fairer, more supportive votes from Brazil in international forums, such as the U.N., on matters involving Israel?
"You can count on having our vote in the U.N. I know that often the vote is almost symbolic, but it helps to define the position a country intends to take. Rest assured that you can depend on our vote in the U.N. on almost all the issues having to do with Israel."
Q: To what do you attribute your electoral victory, and what is your administration's general plan?
"The victory is down to a number of things – the weariness of politicians who made politics a profession here in Brazil; corruption; contempt for family values; and the previous governments' very close ties to socialism and communism, and of course, to the fact that we flew the flag of truth."
Q: Were you surprised by the popular support, the results, and your [party's] increased representation in the National Congress?
"Our party had one member in parliament and now we have 52, despite the fact that we don't get any television coverage or [government] funds. The campaign relied heavily on social media and now we're 10% of the parliament and we've managed to get the support of other parties as well as independent lawmakers, so governing isn't a problem.
"I wasn't surprised, because I started crisscrossing Brazil four years ago. Brazil is very large. Israel is smaller than our smallest state [Sergipe], so imagine if you were 26 times bigger. Over the course of four years, we managed to get to every part of Brazil. By speaking the truth, we gained the sympathy and trust of the Brazilian electorate, and even though I was in the hospital for 23 days and at home for another 20 and couldn't go out [following an attempt on his life], we won by a large margin of votes."
Q: Are you proud of the long political road you've traversed, and will the assassination attempt affect your presidency?
"For 28 years I've been part of a parliament that receives no support from the public. It is a parliament that has turned its back on the people long ago. But the fact is that I'm a survivor of that parliament. Before I entered politics, I was in the Brazilian army for 17 years, and as far as I know in Israel almost everyone has military experience. … [In the military,] one experiences nationalism. It shapes your values and principles – gives you responsibility, patriotism, sacrifice and meaning.  All of this molds your personality."
Q: Why do you think people are saying that you pose a threat to democracy?
"They can't go after me for being corrupt. Meanwhile, their government [the previous left-wing government] operated in a number of ways – controlling the public with the media; rewriting the constitution; nationalizing assets, which lowered the value of private property; submitting to dictatorships all over the world. That's what the Left does, as it walks around carrying Lenin's works on communism under its arm. The Left always blames others for the very things it does itself. But the Brazilian population, which has been liberated from the traditional media, trusted my word and my past."
---
'O rei está nu', diz Dilma sobre Moro aceitar convite de Bolsonaro; veja repercussão com petistas
Petistas usaram as redes sociais para criticar a decisão do juiz Sergio Moro de aceitar o convite para assumir o Ministério da Justiça e da Segurança Pública na gestão de Jair Bolsonaro (PSL). Tanto a direção do partido como lideranças da sigla afirmam que o magistrado atuou de forma parcial e pedem a libertação do ex-presidente Luiz Inácio Lula da Silva.
Em nota divulgada nesta quinta-feira (1), o PT afirmou que Moro revelou sua parcialidade ao aceitar o cargo no próximo governo.
"Moro sempre foi um juiz parcial, sempre agiu com intenções políticas, e isso fica evidenciado aos olhos do Brasil e do mundo, quando ele assume um cargo no governo que ajudou a eleger com suas decisões contra Lula e a campanha de difamação do PT que ele alimentou, em cumplicidade com a maior parte da mídia".
Em sua conta no Twitter, a ex-presidente Dilma Rousseff escreveu inicialmente: "o juiz está nu". A mensagem foi apagada e substituída por uma sequência de quatro tuítes sobre o histórico de decisões de Moro.
"Agora, o juiz Moro anuncia que largará a magistratura para ser ministro do governo que viabilizou a eleição com suas decisões. O rei está nu", escreveu.
Ela citou a divulgação de trechos da delação do ex-ministro Palocci, atribuindo a ela o prejuízo a sua candidatura ao Senado por Minas Gerais e a de Fernando Haddad à Presidência, a "prisão sem provas" de Lula e o vazamento da conversa dela com o ex-presidente Lula "alimentando o processo de impeachment".
A presidente do PT, senadora Gleisi Hoffmann, também mencionou as decisões do magistrado, se manifestando em três idiomas na mesma rede social.
"Moro será ministro de Bolsonaro depois de ser decisivo pra sua eleição, ao impedir Lula de concorrer. Denunciamos sua politização quando grampeou a presidenta da República e vazou para a imprensa; quando vazou a delação de Palocci antes das eleições. Ajudou a eleger, vai ajudar a governar", afirmou.
Nas versões em inglês e espanhol, Gleisi inicia a mensagem chamando a decisão de "fraude do século".
O ex-ministro da Justiça no governo Dilma Rousseff (PT), José Eduardo Cardozo disse à Folha que está "estupefato, absolutamente espantado" com a ida do magistrado para um governo com o qual ele colaborou indiretamente, com suas decisões.
"Eu nunca vi nada parecido na história da magistratura. Curiosamente, aquele juiz que se dizia imparcial e isento aceita cargo num governo que ele ajudou indiretamente a eleger com suas decisões", afirmou Cardozo.
O magistrado "decretou a prisão do candidato que àquela altura estava em primeiro lugar, o ex-presidente Lula", lembrou o ex-titular da Justiça. "Depois, às vésperas do primeiro turno, numa decisão controversa, ele liberou a delação do ex-ministro Antonio Palocci, prejudicando um dos lados da disputa."
Foram decisões judiciais, sustenta o advogado e professor, que repercutiram no processo eleitoral "de forma clara e irrebatível".
Cardozo reitera a impressão de colegas de partido de que a ida para o governo Bolsonaro reforça a tese de parcialidade de Moro no caso de Lula.
"As pessoas no PT estão espantadas. Eu imaginava que, até por prudência, não haveria a aceitação do convite. Há um estado de perplexidade, de assombro." Na opinião dele, as repercussões internacionais devem repetir a incredulidade com a forma "como as instituições brasileiras têm se comportado".
Um agravante, afirma Cardozo, é que conversas sobre a eventual participação do juiz no governo tenham começado ainda durante a campanha, como revelou o vice de Bolsonaro, general Hamilton Mourão.
"É alarmante que o diálogo com um juiz que tomou as decisões que tomou tenha se iniciado antes mesmo da decisão do povo brasileiro."
O ministro das Relações exteriores no Governo Lula e atuante na campanha internacional pela libertação do ex-presidente, Celso Amorim chamou a decisão de espantosa.
"Apenas confirma todas as suspeitas de que o juiz Sergio Moro tenha partido e outros objetivos". Segundo Amorim, seu comportamento é duvidoso: "é como o juiz do Flamengo e Vasco virar presidente de um dos clubes", diz Amorim.
Líder do PT na Câmara dos Deputados, Paulo Pimenta citou a Operação Mãos Limpas na Itália, na qual Moro diz ter se inspirado nas ações da Lava Jato.
"A operação Mãos Limpas na Itália levou Berlusconi a governar a Itália. A #LavaJato levou Bolsonaro a ser eleito presidente. Mas os juízes e procuradores italianos tiveram pudor e não foram para o ministério de Berlusconi", afirmou.
O deputado Paulo Teixeira pediu para que os ministros do STF (Supremo Tribunal Federal) anulem a condenação do ex-ministro Luiz Inácio Lula da Silva e concedam a liberdade ao petista.
"As razões da prisão sem provas foram escancaradas: Moro aceita convite para exercer o cargo de ministro da justiça de Bolsonaro!", disse.
O senador Lindbergh Farias classificou a decisão do juiz como um escândalo e disse que o gesto mostra que o magistrado nunca agiu de forma imparcial.
"Poucas coisas podem ser mais descaradas do que isto. Sempre alertamos que Moro atuava como militante, e não como magistrado. Depois de interferir no processo eleitoral, vira ministro do candidato beneficiado por ele. Em qualquer lugar do planeta isso seria um escândalo", disse.
O ex-presidente da OAB do Rio, o deputado federal Wadih Damous afirma que o aceite de Moro fortalece campanha pela suspeição de Moro no caso de Lula.
No Twitter, ele disse que "Moro será o pilar do estado policial-fascista brasileiro". E acrescentou: "Mas também carregará para sempre a pecha de juiz parcial e sem isenção. Ele tem que se afastar ou ser afastado imediatamente dos processos da Lava Jato, em particular os que envolvem o ex-presidente Lula."
O advogado Vítor Marques, atual coordenador do setorial jurídico do PT, disse que não houve surpresa no anúncio de Moro, pois sua atuação sempre foi política.
"Sergio Moro aceita ser ministro e resolve deixar de se travestir de juiz. Sem novidades, sua atuação na magistratura sempre foi política", disse.
O advogado Marco Aurélio Carvalho, ex-coordenador do setorial jurídico do PT, classificou o aceite como "uma coisa espantosa" e disse que ela materializa a parcialidade do magistrado. Ele cobrou uma manifestação firme do CNJ (Conselho Nacional de Justiça) e de organizações internacionais sobre o caso.
Segundo o advogado, Moro foi determinante para a eleição de Bolsonaro, inviabilizando a candidatura do líder das pesquisas e manejando informações que estavam sob sua responsabilidade e igualmente decisivas para o resultado, como, por exemplo, a divulgação de trechos da delação do ex-ministro Antonio Palocci.
Para Marco Aurélio, é um momento muito triste para o Judiciário. "As lideranças do Judiciários, os representantes de entidades de classe, saíram todas em defesa do Moro. E devem estar se sentindo traídas", disse o advogado
O presidente do Instituto Lula, Paulo Okamotto, se disse perplexo com a decisão do juiz de se tornar ministro de Bolsonaro.
"O pessoal da Lava Jato sempre se colocou acima da bem e do mal, como impolutos, mas agora adota a velha prática do toma-lá-dá-cá", criticou Okamotto."Ainda que a gente desconfiasse, sempre restava a dúvida de que eles [os agentes da Lava Jato] se achavam mesmo acima do bem e do mal. Mas rasgaram a fantasia".
Também ministro da Justiça no governo Dilma e advogado do PT, Eugênio Aragão ironizou a indicação de Moro para a pasta que já ocupou. "Só tenho a lamentar que esse senhor não tenha tamanho para o ministério. É um número muito grande para o pé do Moro".
---
Defesa de Lula usará Moro no governo Bolsonaro como argumento para absolvição
A defesa do ex-presidente Luiz Inácio Lula da Silva usará a ida do juiz Sergio Moro para o governo de Jair Bolsonaro como argumento de que o magistrado agiu politicamente ao condenar Lula no caso do tríplex no Guarujá (SP).
A decisão de Moro de aceitar o convite de Bolsonaro será motivo de petições tanto nos recursos do ex-presidente às instâncias superiores como na ação movida no Comitê dos Direitos Humanos da Organização das Nações Unidas (ONU).
"A formalização do ingresso do juiz Sérgio Moro na política e a revelação de conversas por ele mantidas durante a campanha presidencial com a cúpula da campanha do presidente eleito provam definitivamente o que sempre afirmamos em recursos apresentados aos tribunais brasileiros e também ao Comitê de Direitos Humanos da ONU: Lula foi processado, condenado e encarcerado sem que tenha cometido crime, com o claro objetivo de interditá-lo politicamente", disse o advogado Cristiano Zanin Martins.
"É o lawfare [palavra inglesa que representa o uso indevido dos recursos jurídicos para fins de perseguição política] na sua essência, uma vez que Lula sofre uma intensa perseguição política por meio do abuso e do mau uso das leis e dos procedimentos jurídicos. A Defesa tomará as medidas cabíveis no plano nacional e internacional para reforçar o direito de Lula a um julgamento justo, imparcial e independente", acrescentou.
Convite a Moro
Moro anunciou nesta quinta-feira (1º) que aceitou o convite do presidente eleito, Jair Bolsonaro, para ser ministro da Justiça. O magistrado disse que se afasta de imediato da 13ª Vara Federal de Curitiba, onde conduzia a Lava Jato. Ele deverá comandar uma superpasta, sendo responsável também pela área de Segurança Pública e por diferentes órgãos de fiscalização federais.
Lula está preso na Superintendência da Polícia Federal em Curitiba desde 7 de abril, após ter sido condenado por Moro no caso do tríplex no Guarujá (SP). A condenação foi confirmada pelo Tribunal Regional Federal da 4ª Região (TRF4), que impôs uma pena de 12 anos e um mês de prisão.
---
Bolsonaro diz que agenda anticorrupção de Moro será norte do governo
O presidente eleito Jair Bolsonaro disse, nesta quinta-feira, que a agenda anticorrupção e anticrime organizado de Sérgio Moro será o norte de seu governo, após confirmar que o juiz federal aceitou convite para assumir o Ministério da Justiça e Segurança Pública da próxima gestão.
"O juiz federal Sérgio Moro aceitou nosso convite para o Ministério da Justiça e Segurança Pública. Sua agenda anticorrupção, anticrime organizado, bem como respeito à Constituição e às leis, será o nosso norte", escreveu Bolsonaro em publicação no Twitter.
Pouco antes, o próprio Moro anunciou, em nota, que tinha aceito o convite de Bolsonaro para assumir o Ministério da Justiça no novo governo e disse que pretende implementar uma "forte agenda anticorrupção".
---
VOLVER