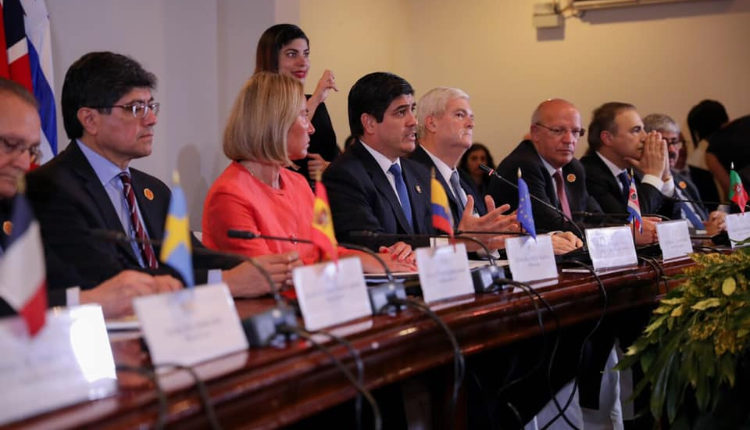 Grupo Internacional de Contacto pide unidad de la oposición, diálogo inclusivo y elecciones creíbles en Venezuela
Sesionó el Grupo Internacional de Contacto por Venezuela
Este martes hubo una reunión virtual de los cancilleres de los países que integran el Grupo Internacional de Contacto por Venezuela, entre ellos Uruguay, representado por Francisco Bustillo. La reunión fue convocada por Josep Borrell, después de reunirse con el nuevo secretario de Estado de Estados Unidos. Por primera vez, participaron República Dominicana y Chile.
Los cancilleres expresaron preocupación por la situación en Venezuela y llamaron a los actores políticos locales y a la sociedad civil a moverse "con urgencia y de buena fe hacia la resolución de la profunda crisis política, económica y social que atraviesa el país".
"La única salida a la crisis es reanudar las negociaciones políticas con prontitud y establecer urgentemente un proceso de diálogo y transición inclusivo dirigido (…) que conduzca a elecciones creíbles, inclusivas y transparentes de conformidad con las disposiciones de la Constitución y las leyes de Venezuela", concluyeron en la declaración.
Los cancilleres pidieron además nombrar un Consejo Nacional Electoral "independiente y equilibrado". Y pidieron a las "fuerzas democráticas de oposición que se unan como parte de un esfuerzo más amplio y concertado para un mayor diálogo".
Además, bregaron por "un acceso pleno y sin obstáculos" del personal humanitario y de los bienes, a fines de proporcionar el acceso urgente a alimentos, medicamentos y servicios de salud básicos, incluido el acceso a las vacunas contra el covid-19. "Más que nunca, Venezuela necesita el apoyo de una comunidad internacional que trabaje en conjunto", dicen los ministros en la declaración.
---
International Contact Group on Venezuela: Ministerial Declaration
1. The International Contact Group (ICG) met at Ministerial level by videoconference on 2 February. The Group welcomed the participation for the first time of the Dominican Republic and Chile as full members.
2. ICG members express concern on the situation in Venezuela and call on local political actors and civil society to move urgently and in good faith towards the resolution of the profound political, economic and social crisis the country is going through.
3. ICG members reiterate that the only way out of the crisis is to resume political negotiations promptly and to urgently establish an inclusive Venezuelan-led dialogue and transition process leading to credible, inclusive and transparent elections in accordance with the provisions of the Constitution and the laws of Venezuela.
4. A fundamental part of that process will be the appointment of an independent and balanced National Electoral Council (Consejo Nacional Electoral, CNE). This will be one of the necessary steps to remove all obstacles to political participation for meaningful electoral processes to take place. There can be no democracy without a commitment by all parties to respect basic electoral rules and on the impartial role of the CNE.
5. ICG members call on the democratic opposition forces to come together as part of a wider, concerted effort for further dialogue, which will require difficult compromises if Venezuela is to carry out a successful transition to democracy, stability and prosperity.
6. ICG members call for the guarantee of all political and civil rights. They call for the freedom and safety of all political actors and insist that all political prisoners should be released immediately and unconditionally, and house arrest terminated. Continuous intimidation and reprisals against political actors further aggravate the crisis, creating more obstacles to the peaceful return to democracy and the rule of law. ICG members support the establishment of a permanent office of the UN High Commissioner on Human Rights in Venezuela.
7. ICG members reiterate their deep concern about the worsening humanitarian situation in the country and its neighbours, now aggravated by the Covid-19 pandemic. The ICG calls for full, unhindered and unimpeded access to both humanitarian personnel and goods, in order to provide urgently needed access to food, gasoline, medicines and basic health services, including access to Covid-19 vaccines. Any decision that further diminishes humanitarian access must be reversed. Repression and attacks on civil society organisations, human rights defenders and the media in Venezuela must stop immediately.
8. More than ever, Venezuela needs the support of an international community that works together. The ICG expresses its continuing willingness to increase contacts with regional and international partners to foster a common understanding and response to the situation in Venezuela. Articulated and complementary international efforts are crucial to help Venezuelans restore democracy and the Constitutional order. Close contacts with national stakeholders will also continue.
---