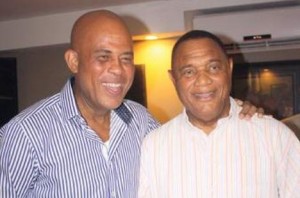 The government of The Bahamas plans to forge greater economic ties with Haiti, Prime Minister Perry Christie said on Wednesday.
Haitian President Michel Martelly said this could help stem the flow of illegal immigrants from Haiti to The Bahamas by providing more jobs.
Martelly said he has asked Christie to send a delegation of Bahamian entrepreneurs, as well as the ministers for trade and foreign affairs, to identify areas for investment in northern Haiti.
"The people who are coming here, they are looking for jobs," Martelly told reporters during an interview at the prime minister's home on Christie's 70th birthday.
"And I have proposed to the prime minister to invite a delegation of entrepreneurs to visit Haiti so they can see the opportunities.
"It would be [to] both of our advantage on the immigration issue where they would no longer have to take the boats and come here looking for jobs."
Martelly said furniture and agricultural products made in Haiti are normally exported to The Bahamas through Miami, Florida.
He said if The Bahamas can access direct imports from Haiti it could lower prices on these goods and benefit both countries.
The president said the large numbers of Haitians seeking illegal entry into other countries is a major concern for his administration.
"We can understand that it happens due to the lack of jobs in Haiti, so many people are unemployed," Martelly said.
"Due to the fact that our army was [disbanded], we don't have a coast guard that is adequately equipped; so we have problems controlling our borders, but because of the will of the prime minister and myself to cooperate and fix this situation we are going to move forward in a new direction."
Christie did not take questions, but told reporters that in addition to strengthening economic ties between the two countries, he hopes to soon have a firm resolution to the problem of illegal Haitian immigration.
The president was on a short vacation with his family.
Christie said he will soon extend a formal invitation to Martelly to visit The Bahamas on official business.
The prime minister said he plans to host a cultural event that will "fill the national stadium" and hopes that Martelly, who is also a singer, will perform.
http://www.caribbeannewsnow.com/topstory-Haitian-president-hopes-for-stronger-economic-ties-with-Bahamas-17350.html