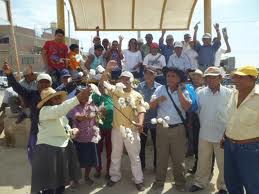 Farmers claim in city protest: Devant destroying agricultural sector
Farmers took to the streets of the capital city yesterday calling for the removal of Food Production Minister Devant Maharaj who they claimed was destroying the agricultural sector. Farmers from Plum Mitan, Plum Road, Pineapple Fields in Mausica, Maloney, Bon Air, in Arouca, Manzanilla, Chase Village, Los Iros, Rio Claro and various farming organisations took part in the demonstration. The farmers walked from Woodford Square to the Prime Minister's Office,  St Clair, where they gave a letter to press secretary Francis Joseph. They also walked to the ministry at Serpentine Road, St Clair, where they gave a copy of the letter to the minister's secretary. The letter listed 18 issues. The farmers want Vasant Bharath to be reappointed as the Food Production Minister. Maharaj replaced Bharath as the Food Production Minister in the last Cabinet reshuffle by Prime Minister Kamla Persad-Bissessar.
President of the Agricultural Society Dhano Sookoo said the farmers have made numerous attempts to contact Maharaj by telephone and in writing but to no avail.  The society, she said, represented 86 associations with 12,000 farmers. Sookoo said the farmers were giving the minister two weeks to respond to their queries. She said one issue brought up in the letter was how $1.2 billion was spent by the ministry and nothing was achieved. The letter questioned the whereabouts of 200 head of goats and cows from the United States, why flood relief claims were not paid to farmers, who were the beneficiaries of the mega-farms and other concerns. "We want the minister to tell us what happened to the $1.2 billion that was spent on the agricultural sector. We want to know where that went. Why do we have to import food when our farmers here have food rotting?" she asked.
Sookoo added: "These are the issues you need to address that are destroying the fabric of our society and their (farmers) livelihood is threatened. "We are committed to work but one hand can't clap. We need the right initiative for the co-operation. We will fight to protect a sustainable and viable sector." She is also questioning why a certain oil company was given a loan by the Agricultural Development Bank when farmers were turned away. "I need you to look into these things. Also over $50 million has been given to the National Agricultural Marketing and Development Corporation. What were their achievements?" she asked. President of the Los Iros Farming Association and a director at the Society, Chan Sookoo, said there were many issues that farmers have to deal with that are not being addressed. Chan said lack of water, poor roads, praedial larceny and land settlement issues were a major concern for the farmers.
Bon Air Farming Association public relations officer Brian-Anthony Dixon said the farmers were prey to robbers. "There is a problem getting water and you have to get up at 2 am to pump it out of a waterhole and men are waiting to rob you," he said. He said farmers were paying more than ten times what other businesses pay to lease an acre of land for farming. Dixon said farmers were also faced with pest problems and "agouti eating our crops." He also pointed to several types of watermelons that he was growing on his land which showed that the farmers were capable of planting different produce.
Minister's response
Food Production Minister Devant Maharaj said the protest by the farmers was a distraction to an ongoing criminal probe. "This protest has been orchestrated by ASTT and sympathisers and does not constitute the farmers," he said. It was arranged, he added, to distract attention "from the financial improprieties and complaints before the Fraud Squad and I would not be distracted by non-issues.  "They are investigating financial complaints under the stewardship of Dhano Sookoo."
http://www.guardian.co.tt/news/2013-10-28/farmers-claim-city-protest-devant-destroying-agricultural-sector