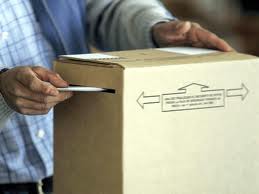 NSOC will make voters feel safe, says Griffith
THE use of the National Security Operations Centre (NSOC) to assist with security for the St Joseph bye-election on Monday is to ensure the citizens can vote without concern, and not because the National Security Ministry is expecting a major incident, said National Security Minister Gary Griffith.
"There has been no intelligence to state that there are plans afoot to cause disruption. However these measures would both provide the deterrent and ensure that the constituency feels and is safe on Monday, whoever they support," he said.
On Wednesday the ministry in a release stated that NSOC will have "overall situational awareness" and will assist with security for the bye-election. The release also stated that NSOC will monitor in consultation with the Police Service, the Defence Force and will provide air patrols together with the Air Guard. The ministry also asked citizens to report any suspicious or unlawful activities at polling stations at the hotline 622-4592.
Griffith was asked by Newsday why NSOC was deployed for election day and whether the ministry was expecting an incident for the election. He responded in a text message that there was no such information but he does not "wait for things to happen to then act".
"NSOC is the operational communication platform to ensure proper coordination between law enforcement agencies which never happened before. One hand did not know what the other was doing, hence the possibility of security breaches. These measures are earmarked solely to ensure that all citizens in St Joseph can vote with no…concern," he said.
On Wednesday at the Police Service annual Divali function, Deputy Commissioner of Police Mervyn Richardson told reporters that the police had everything in place for security for Monday's election and everyone was briefed and ready to go.
He said they have had no report of any serious misconduct or misbehaviour in the lead up to the St Joseph bye-election on November 4. He noted, however, officers were looking into a media report of violence during a walkabout with United National Congress candidate Ian Alleyne in Champs Fleurs last week Wednesday.
http://www.newsday.co.tt/politics/0,185891.html