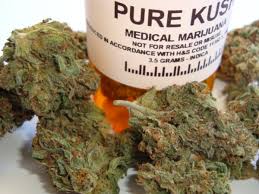 Jamaican health minister supports use of medical marijuana
Jamaica's Minister of Health, Dr Fenton Ferguson, says while the smoking of marijuana has serious implications for one's health, he fully supports the use of the substance for medicinal purposes.
"Jamaica can't lock off itself from the rest of the world or the research findings that are available, that is pointing to a significant number of elicits that medical marijuana is responding to, so I want that to be very, very clear, that when it comes to medical marijuana, I am fully on board," he said.
He argued that the smoking, including the smoking of marijuana, is "bad", adding that with ganja, "the Tetrahydrocannabinol (THC) is the critical addictive substance."
Turning to the recently imposed ban on smoking in specified public places, Ferguson said it is the most far-reaching public health policy in decades.
"What you will see from these regulations within another couple of years, as happened in Northern Ireland, which was the first to have a ban on smoking in public places, is less strokes, less heart attacks, and less asthmatics," he said.
The minister noted that there has been a 20 percent reduction in asthmatic admissions to hospitals since the imposition of the no smoking policy in specified public places.
Ferguson said that the country spends billions of dollars each year to address the ills caused by tobacco smoke, and pointed out that the direct and indirect cost of tobacco use and exposure is estimated to be between US$750 million and US$1.3 billion.
He urged Jamaicans to continue supporting the ban as well as to embrace healthier lifestyle practices, in order to significantly reduce cardiac-related illnesses and other non-communicable diseases (NCDs).
The minister stressed that the regulations were put in place to protect the country's workers, non-smokers, the nation's children and smokers themselves.
Ferguson also pointed out that one of the main goals of the government is to reduce by 25 percent, the number of avoidable deaths related to non-communicable diseases by 2025.
The implementation of the Public Health (Tobacco Control) Regulations 2013, which was imposed on July 15, is in keeping with the government's 2013/14 strategic priority focus on human capital development in relation to health care.
The tobacco regulations outline places where smoking is prohibited, such as all enclosed places, public transportation, workplaces, government buildings, health facilities; sport, athletic and recreational facilities for use by the public; educational institutions; areas specifically for use by children, and places of collective use, such as bus stops.
There is also the requirement of the use of large, graphic health warnings on tobacco products, instead of the text only warnings currently used.
The 2010 Global Youth Tobacco Survey, undertaken by the National Council on Drug Abuse (NCDA), indicates that just over 40 per cent of young persons, aged 13 to 15 years, have smoked at least once and, alarmingly, over 19 per cent of those who have ever smoked started under the age of 10 years.
According to World Health Organisation (WHO) statistics, tobacco kills up to half of its users and causes the death of nearly six million people each year, including more than 600,000 non-smokers exposed to second hand smoke.
The statistics also show that across the globe, every six seconds, someone dies from a tobacco-related illness; one in 10 adults dies every year because of tobacco; and nearly 80 per cent of the world's one billion smokers live in low and middle income countries like Jamaica.
http://www.caribbeannewsnow.com/topstory-Jamaican-health-minister-supports-use-of-medical-marijuana-18845.html