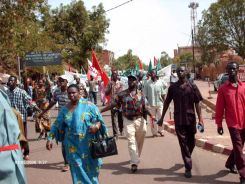 Trinidad trade unions plan second street demonstration against Kamla's government
Trade unions have announced plans for a second major show of strength against the Kalma Persad Bissessar led coalition People's Partnership government within a month.
President of the Joint Trade Union Movement (JTUM) and president general of the powerfuil Oilfield Workers Trade Union (OWTU), Ancel Roget, said the labour leaders will lead "thousands" in a march to the office of Prime Minister Persad Bissessar next Friday.
Exactly one week from today, next Friday, June 27, at 5 pm, we will assemble in our thousands at King George V Park in Port-of-Spain. From there we will be going straight to the head of the Government of Trinidad and Tobago, the one who has ultimate responsibility for our government.
"We will go directly to the office of Prime Minister Kamla Persad-Bissessar. We must not give away our strategies, we must maintain the element of surprise so when we reach there, we will announce our next move," Roget told a "May Day" rally of trade unions here on Thursday.
Trade unions in Trinidad, unlike their partners worldwide, celebrate May Day on June 19 rather than the traditional May 1.
Roget called on the government to name the date for fresh elections in Trinidad and Tobago as well as to dismiss embattled Sports Minister Anil Roberts, who in the past has denied he is the person seen in a video where a man is rolling a marijuana joint.
Prime Minister Persad Bissessar has said she has accepted Roberts explanation that the video is a fabrication and that he is not the person many say is him in the video.
But Roget said children were aware of the video and called on Prime Persad Bissessar, "If not for the sake of our young people and the future of our country, fire Anil Roberts now."
The trade union leaders also listed a host of situations which they said the coalition government had created during its four years in office to date.
They said these included the creation of the New Flying Squad Investigative Unit, the Section 34 fiasco, E-mailgate, Prisongate, Petrogate (Petrotrin's oil spill), a growing murder rate and police killings, but most of all, disrespect to the labour movement.
But Roget and other trade unionists at the rally in Fyzabad, south of here, channeled their presentations on their one-time colleague, Errol Mc Leod, the Labour Minister and former OWTU president general, referring to him as a 'sell out".
"He is the Minister against Labour." Roget said, describing McLeod as the worst labour leader the country had ever seen.
Responding to comments McLeod made during the fourth anniversary celebrations of the government last month, in which he told trade union leaders to focus on issues surrounding industrial relations rather than getting involved in politics, Roget reminded labour supporters that McLeod, as a trade unionist, had a different perspective.
Roget read from a newspaper article and also played a recording of McLeod at a past Labour Day rally when McLeod made statements to the contrary.
"We declare all-out war… He has turned his back on the labour movement… Those who seek to destroy the Oilfields Workers' Trade Union will only end up destroying themselves," Roget said.
http://www.caribbean360.com/news/trinidad-trade-unions-plan-second-street-demonstration-against-kamlas-government