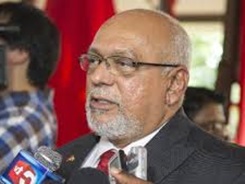 Presidential nomination… Only 'one name' before PPP central, executive committees
GENERAL SECRETARY of the ruling People's Progressive Party, Clement Rohee yesterday disclosed that the only name being considered for a presidential nomination by the party is that of incumbent President Donald Ramotar.
According to him yesterday at the party's weekly press conference at Freedom House, the party's Central Committee has started talks about the presidential nominations in the face of early general elections.
"The Central Committee started discussing this matter at its last meeting and agreed that we will continue discussions to bring this matter to finality…there are no names there. The issue is being discussed. President Ramotar obviously is candidate for the time being…there are no other names there, there is one name there at this point in time," he said.
Rohee told the media that the PPP's Executive Committee is expected to consider deliberations on the presidential nomination, as well as the nomination of the party's Prime Ministerial candidate. He added that a public pronouncement on both nominations will be made soon.
"We will make an announcement that covers everything…at the appropriate point in time we will say exactly what the position is," Rohee concluded.
An early move to the polls comes in the face of the rejection of the President's invitation for dialogue, which was made last Tuesday to the combined Opposition, following the prorogation of Parliament on November 10.
GREATER DIALOGUE
In proroguing Parliament, President Ramotar was emphatic that the move to prorogation was intended to pave the way for greater dialogue among political parties, while keeping the 10th Parliament alive to address the critically important issues currently before the National Assembly.
The effect of ending the first session of the 10th Parliament via prorogation is the termination of the business of the National Assembly.
As a result the AFC sponsored no-confidence motion was not considered. And APNU had, prior to Monday, signalled its intent to support the push through of the motion. Had it not been for the proclamation to prorogue Parliament, if the no-confidence motion was passed, Guyana would have been headed to early general elections within three months.
However, the President has made it clear that if these efforts prove futile, there will be a move to early general elections. The last general elections were held in November 2011.