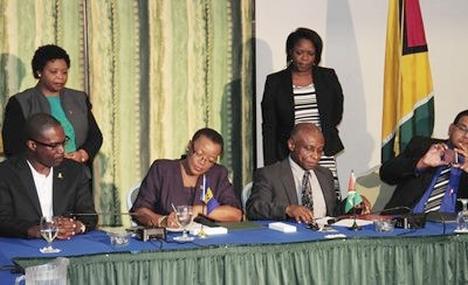 Barbados y Guyana firman acuerdo para conformar comisión mixta que promueva el turismo
Barbados and Guyana sign third joint commission
Barbados and Guyana have signed a third joint commission, which is intended to foster cooperation in tourism and other sectors.
The agreed minutes of the third joint commission; a memorandum of understanding between the Barbados Tourism Marketing Inc. and the Guyana Tourism Authority; and a memorandum of understanding between the Barbados Port Inc. and the Guyana Port Authority, were all signed recently in Barbados.
Speaking during the signing ceremony, which took place after a day of deliberations between Barbadian and Guyanese officials, Barbados minister of foreign affairs and foreign trade, Senator Maxine McClean, explained that the talks gave both countries the opportunity to exchange ideas and assess the level of cooperation within the Joint Commission.
Adding that such a commission was intended to strengthen bilateral ties between the two countries, McClean noted that it would not only benefit the respective governments, but positively impact the principal economic sectors of each country.
"In 2007, we signed the first step of this initiative, and in 2013 we had a second meeting of the Joint Commission that allowed us to identify several critical areas of cooperation in tourism, education and agriculture, and we sought to concretise efforts to increase trade.
"In my opinion, this exercise will not only benefit the respective governments but the principal economic sectors of our respective countries and I anticipate that building on what we have achieved [there will be a] mix of synergies which will allow sectors to grow," she stated.
Vice president and minister of foreign affairs in Guyana, Carl Greenidge, announced that he was satisfied with the progress made with the joint commission so far, which included an internship for Guyanese students at the Crane Beach Resort and scholarships provided by the Guyana School of Agriculture to Barbadian students.
He added that he was looking forward to deeper collaboration in the fisheries and maritime sectors, particularly planned exchanges of technical assistance and the development of related services.
The vice president also highlighted a number of improvements that could be made to the agreements. He outlined a need for careful budgeting when projects were being implemented and suggested that more work needed to be done within the education system to encourage persons to be more fluent in other languages.