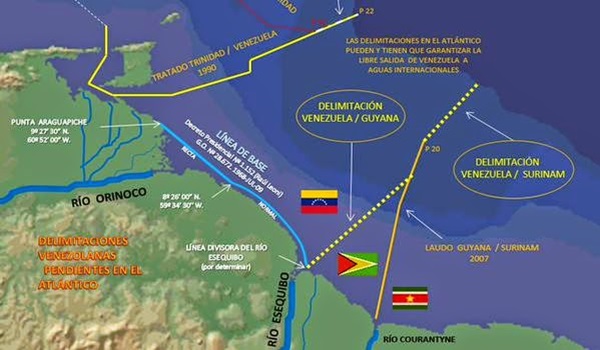 Guyana investiga aterrizaje de helicóptero militar venezolano en el Esequibo
Armed soldiers in Venezuelan aircraft land in Essequibo
A Venezuelan helicopter landed at the KaiKan Airstrip, Region Seven (Cuyuni-Mazaruni) within close proximity of the Guyana/Venezuela border on Thursday morning around 10:45h.
Chief of Staff of the Guyana Defence Force (GDF) Brigadier Mark Phillips told Guyana Times several Venezuelan military men neatly dressed in uniforms and armed disembarked the aircraft.
Reports indicate the soldiers began to engage in conversation with two nearby villagers and shortly after, they boarded the chopper and took off.
Brigadier Phillips told this newspaper that the Venezuelan soldiers were inquiring from the villagers if they had landed in San Juan, Brazil. However, the villagers informed them that they landed in Kaikan, Guyana. Upon receiving this information, the men embarked the helicopter and left.
The Chief-of-Staff said initial reports indicate that none of the men stayed behind and he dismissed reports which suggest that the Venezuelan military disappeared into the jungle.
Upon observing this interaction, the security forces at the Kaikan airstrip reported the matter, and an investigation has been launched. Brigadier Phillips said the security officers there did not intervene when the aircraft landed.
The Chief-of-Staff noted that the Ministry of the Presidency was alerted of the incident and an investigation was launched.
Guyana Times made contact with Foreign Affairs Minister Carl Greenidge who said he was out of the country and knew nothing of the matter.
Meanwhile, this report comes at a time when tensions are high between Venezuela and Guyana after the Bolivarian Republic revived the century-old issue of its claims to nearly half of Guyana's territory after US-oil giant ExxonMobil declared a significant oil find in Guyana's maritime territory.
The GDF Chief-of-Staff urged citizens not to be alarmed.